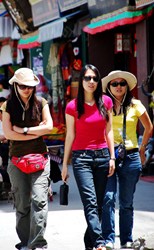 Travel to Tibet with ease and fun!
(PRWEB) August 08, 2013
Tibet travel is renowned for outdoor adventure and cultural discovery. Travelers from all over flock to Tibet to see its mountainous landscapes and learn about its culture. For many visitors Tibet is a place drastically different than many of the places they have visited; everything from the climate and geography to how to shop and use money can be different than a travelers' home country. Lhasa based travel agency Tibet Ctrip Travel Service-TCTS (http://www.tibetctrip.com) has updated its tips for making travelling in Tibet easy and worry free.

The weather in Tibet varies drastically depending on location, time of year, and time of day so be sure to pack appropriately. On a trekking tour, for example, conditions can go from comfortable to rain/snow then plummet to below freezing at night, in this situation layering clothes is the way to go. Even on an easy paced sightseeing tour travelers should be prepared for less than perfect weather. TCTS can advise travelers on the best way to pack for their tour.
Many travelers are able to feel the affects of the altitude for the first few days of their Tibet tour. While the altitude rarely gets in the way of normal activities symptoms include headache, dizziness, fatigue, and shortness of breath. The best way to avoid problems is to stay well hydrated along with avoiding intense physical activity, tobacco, and alcohol for the first few days in Tibet. Some tours visit higher altitude areas such as Mt. Everest base camp, in place like these travelers are encouraged to take it easy and not over exert themselves.
The local currency in Tibet is the Chinese Yuan (RMB). Reliable ATMs are available in Lhasa and currency exchange services are available as well (banks typically offer the best rates). Some banks can process cash advances on major credit cards, outside of this travelers should not expect to be able to use their credit cards (with the exception of a few high end hotels). When shopping for souvenirs bargaining for the price of an item is a standard practice.
Many travelers agree that adequate preparation is key to getting the most out of a trip to Tibet. The differences between Tibet and travelers' home countries can be charming and challenging at the same time; familiarity with the differences one is likely to encounter can turn a challenge into insightful cultural discovery! It's very important to pack with tour destinations in mind and take the steps necessary to acclimatize to the altitude, especially for more active tours. Also, being aware of money and banking differences can head off a lot of frustration. With the travel season in full swing now is the time for travelers to start planning their tour.
Tibet Travel Company TCTS Contact Address:
Post Address: Tibet Niwei International Travel Service, Co., Ltd (Niwei Building Room 302, No.13 North Linkuo Road, Lhasa, Tibet)
Tel/Fax (Lhasa area code):86-891-6342607, Mobile: 86-13628999610 (Tony), Post Code: 850000
Email: sales(at)tibetCtrip(dot)com, TibetCtrip(at)gmail(dot)com
Devin Moore, author of this release, is a travel writer and independent economic analyst based in Springfield, Missouri USA. Devin publishes Tibet travel related information for local Tibet travel agency in order to spread awareness of Tibet and its people.