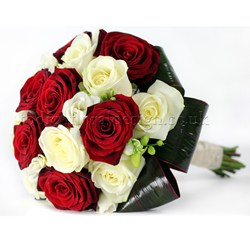 'The heatwave has really given our wedding sales a tremendous boost this summer' says managing director Todd Z.Todic 'With the UK having experienced a long cold winter; it has been such a relief to have some blessed sunshine'
(PRWEB UK) 3 August 2013
Every bride wants the sun to shine on her special day; and luckily the United Kingdom has been basking in beautiful sunshine for the last couple of weeks. The glorious weather has brought on a storm of orders from UK brides wishing to get married during the blissful heatwave.
Summer flowers have been incorporated into many of the London wedding flower designs. The arrangements have been filled with sunflowers, delphiniums and peonies in shades of vibrant yellows, oranges and pinks!
The London florist has noted a recent surge in popularity of red rose flower bouquets. Red roses are being mixed with white freesias, and the stems are being wrapped with pretty lace fabric and pearl pins: the use of lace and pearls brings this classic design back into the modern wedding flower trend.
Todich Floral Design has been working with different suppliers to bring their brides the freshest flowers money can buy. The flower company has recently sourced a new Dutch supplier which provides fresh red roses at a fraction of the price.
The team are proud to offer a bespoke flower delivery service where they deliver the bridal wedding bouquet, personal flowers and ceremony flowers straight to the venue and the brides home on the morning of the wedding. The floristry team also offer a free vase collection service.
The popular wedding season runs from March until early October; the Todich Floral Design team are able to book London weddings all year round and are now available to take enquires for weddings held in 2014 and 2015
About Todich Floral Design
Todich Floral Design is a specialised wedding florist based in the heart of London. Established for over 20 years, the company has a team of florists, designers and consultants who successfully design beautiful flower displays on a regular basis. The London floristry team has a range of accessories and jewels which look stunning in bridal bouquets, intricate buttonholes, flower corsages, table arrangements and flower hairpieces.