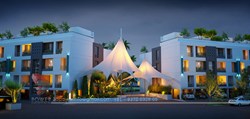 With demand for services and quality in this industry on the rise, we are proud to be able to offer a full suite of services to our clients
Maharashtra, India (PRWEB) August 01, 2013
It has been reported recently by specialist IT and multimedia firm 3D Power Visualization Pvt Ltd that there has been an increase in demand for architectural visualization services. According to experts from the company, this increased demand has been partly fuelled by the growth and demand within the real estate sector.
3D Power Visualization Pvt Ltd is a full service IT and multimedia provider offering a wide variety of services all under one virtual roof. The company said that demand for these services has continued to grow, with clients demanding quality services and products within set timescales.
The multimedia company offers a host of services, which includes 3d architectural rendering | modeling | animation | walkthrough | visualization. Customers who want to find out more about the past work of the company can view the 3D Power – Portfolio via the company website. This makes it easier for potential customers to get a better idea of the 3D Power - Services available.
A representative from 3D Power Visualization Pvt Ltd said: "With demand for services and quality in this industry on the rise, we are proud to be able to offer a full suite of services to our clients. We are among the top ten studios in South Asia and we aim to become one of the top ten architectural visualization studios in the world. We have 80 expert employees, we use state of the art technology for excellent results, and we offer competitive pricing. With a host of services available, we also provide total ease and convenience for our customers."
Those interested in these services can find out more about the range of options available from 3D Power Visualization Pvt Ltd by visiting the company website. There is a video and image portfolio and gallery to provide consumers with more information and a chat facility for customers to discuss their project requirements further.
To find out more about architectural visualization services, please visit http://www.threedpower.com/.
About 3D Power Visualization Pvt Ltd
3D Power Visualization Pvt Ltd is a specialist IT and multimedia company based in India. The firm offers a range of services designed to meet the growing demand for technology in this industry.
Contact information
3D Power Visualization Pvt ltd
Maharashtra
India
Phone Number: +91 - 9372032805