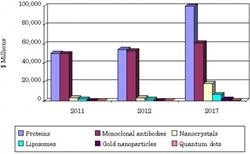 Wellesley, MA (PRWEB) August 02, 2013
According to a new technical market research report, NANOMATERIALS IN THERANOSTICS: GLOBAL MARKETS (Report code: HLC144A) from BCC Research (http://www.bccresearch.com), the global market for theranostic nanomaterial was valued at $112 billion in 2012. BCC Research expects the market to reach $188 billion by 2017, and register a five-year compound annual growth rate (CAGR) of 10.8% for the period 2012 to 2017.
Theranostics is the fusion of therapy and diagnosis; it is the foundation of personalized medicine. This revolutionary model of highly customized healthcare includes specific therapies that are tailored to treat diseases based on the patients' genetic makeup. Theranostics is changing the standards of the healthcare model by imposing new marketing tactics, strategic alliances, innovative business models, and research and development outsourcing paradigms. BCC Research expects nanotechnology to play a pivotal role in this revolution. This report addresses the drivers and limiters of this new model and offers an exhaustive analysis of the nanomaterials used in theranostics.
Nanomaterials include biological molecules such as proteins and antibodies and organic and inorganic synthetic materials such as liposomes, quantum dots, gold nanoparticles, nanocrystals, and fullerenes. According to BCC Research, protein drugs and antibodies will dominate the market of theranostics through 2017. The market for protein drugs and antibodies, as a segment, was valued at $54.3 billion in 2012. This market is expected to reach nearly $100 billion in 2017, and register a CAGR of 12.9%. The monoclonal antibodies segment was valued at nearly $53 billion in 2012 and is expected to reach $61 billion in 2017, to register a CAGR of 2.9%.
Theranostic and personalized medicine will be the ultimate transformation of modern healthcare to diagnose and treat diseases. Nanotechnology will be the toolbox used to execute this new approach to medicine. Personalized medicine has already proved effective with respect to costs and has lowered the number of trial-and-error prescribing and incidents of hospitalizations due to adverse drug reactions and late diagnoses.
This report provides a comprehensive analysis of the nanomaterial market for use in theranostics and personalized medicine. The study includes profiles of key market players, small startups and descriptions of major products that generate the largest revenues. These profiles include the most-valuable R&D products that will debut on the market till the year 2017. Current and future technologies for the preparation of nanomaterials in theranostics are also discussed in this report.
This study in an invaluable instrument for understanding the ways in which the pharmaceutical and medical device markets are rapidly changing by forming new paradigms and marketing strategies. The market is characterized by the creation of partnerships, collaborations and mergers and acquisitions (M&A) between pharmaceutical companies, the medical device industries, academics, and small startups. The report also discusses seventeen new emerging geographic markets, including Russia, India, China, Turkey, South Africa, and Thailand.
The report is intended for professionals in the medical, medical devices, pharmaceutical, nanotechnology, materials, chemical, biological, biotechnological, and diagnostics fields. Professionals who may benefit from reading this report include analysts, sales and marketing representatives, R&D personnel, business development personnel, and corporate strategy developers. Investment firms will gain invaluable information concerning risks and opportunities encountered in the field by studying this report.