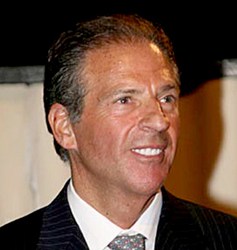 'I decided that if money were only going to change my life slightly, I'd rather be on the giving side. So, I've devoted the rest of my life to using my creative skills to provide sources of capital for entrepreneurs, and for my partners.' - Glenn Myles
New York City, New York (PRWEB) August 05, 2013
The event dubbed as "A Blast from the Past" is one of the highlights of the Charles Evans PCF Pro-Am Tournament at the Hamptons from August 23-25, 2013 for the benefit of the Prostate Cancer Foundation(PCF).
Glenn Myles is the founder of First Wall Street Capital, an independent global investment firm located in New York City. Asked what motivates him to work tirelessly on various charities, he says, "I decided that if money were only going to change my life slightly, I'd rather be on the giving side. So, I've devoted the rest of my life to using my creative skills to provide sources of capital for entrepreneurs, and for my partners."
For this event, he is supporting Michael Milken's Prostate Cancer Foundation, the world's largest source of funds for prostate cancer research. Milken is a prostate cancer survivor himself, and is known for his efforts to accelerate the pace of research into life-threatening diseases.
Glenn and his wife Jennifer will be joined in the event by elite members of society, including: Michael Milken and his wife Lori, private equity champion Leon Black and his wife Debra, oil magnate David Koch and his wife Julia, real estate tycoon Richard LeFrak and his wife Karen. Also expected to attend this exclusive event are the finance industry's movers and shakers including healthcare leader Richard Merkin and crowdfunding and hedge fund syndication pioneer Bruce Lipnick - a close friend of Glenn Myles for the last 20+ years.
The event's organizing committee promises an unforgettable night of special surprises with a throwback to the 1950s as inspired by the blockbuster musical film "Grease." Its members include: Bob & Deanna Adler, Tim Chirotti, Jim Coleman, Don & Joan Diamond, Bonnie Pfeifer Evans, Jeff & Mei Sze Greene, David Hamamoto, Jon Kalikow, Richard Kalikow, Bill & Suzanne Marcus, Javier Naselli, Joel Pashcow, Bob & Lauren Roberts, Todd Rome, Joseph Rosenbaum, Daniel & Sheila Rosenblum, Jack Takacs, David Yurman and Bruce Lipnick.
Priced at $15,000 per table, this announcement has brought in $150,000 in pledges even though complete details about the event have not yet been released. Estimates for the event is over $1 million even before the formal invitations go out. Tables however are available at a suggested donation of no less than $15,000 and selling out quickly. It is rumored that unique auctions items such as dinner or breakfast with Myles and Milken to talk finance, entertainment or to simply reach out to these corporate magnates are potentially available for a starting bid of $10,000. This opportunity for young entrepreneurs to have a mentoring session with them would normally fetch over $25,000 for a 1-hour session in other charity events.
About First Wall Street Capital
A Boutique Merchant Bank With A Global Reach
First Wall Street Capital (FWS) is managed by experienced and highly qualified professionals who have been involved as a principals, investors, and advisors on over $24 Billion in transactions across a variety of industries over the last 25+ years. Founded by Glenn Myles, the firm has built a reputation for delivering significant and unique value to investment opportunities. We have a long record of success, bringing solutions across a variety of challenging projects, sectors, and stages –often delivering results using out-of- the-box approaches after others have failed.
Media Contact:
An event-driven financial media company - your global communications partner.
For inquiries, contact carmen.campo(at)thesoholoft(dot)com or +1 212 845 9652.