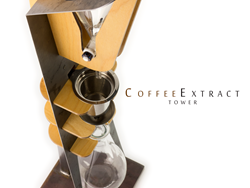 By rhythmically dripping cold water over coffee grounds, the tower puts on a subtle, yet captivating performance.
Albuquerque, New Mexico (PRWEB) August 05, 2013
Brewing coffee can be reduced to the most efficient way of getting our tweak on, or it can be expanded into a ritualized performance, which is the idea behind the new Coffee Extract Tower launched on Kickstarter.com from design firm Kitbashive.
Ian's wife drinks many coffees. She needed a birthday present, and his creative itch was long overdue for a good scratching. She had been especially infatuated with iced coffee at the time, but her brewing process was more akin to a moonshine operation-- mixing a cup of grounds in with a gallon of water and letting it steep over night. Ian's first thought was to simply get her a more efficient pair of jars for filtering the coffee, but that quickly turned into an all-night google research binge, and he emerged with the idea to build her a cold drip coffee system that takes different pieces and products and bashes them together in an unlikely, but beautiful design.
Food and drink may be simple sustenance, but ritual reminds us how important it is. The coffee extract tower is meant to be a functional sculpture; something that can be proudly displayed as it brews coffee, and even when it is not in use. By rhythmically dripping cold water over coffee grounds, the tower puts on a subtle, yet captivating performance. This method of essence extraction creates a non-acidic, pure coffee concentrate that's perfect for iced coffee, with a different chemical profile then hot-brewed coffee. This time proven method brews coffee that is easy on the human stomach, and even easier on the taste buds. The coffee extract tower is designed with elegant connections in mind. Each component is solidly in place, but easily disassemblable. Part of the impetus was to find intrinsic beauty in the way the structural materials interact with the functional pieces.
Slow drip coffee requires a little work and patience, but the results are well worth it. A methodical, honed brewing ritual will always yield a perfect cup of coffee that is unique to the moment. The Coffee Extract Tower embraces cool coffee culture with a novel design and crowd-funded execution. It is available now on Kickstarter.com. Find it here: http://www.kickstarter.com/projects/kitbashive/coffee-extract-tower-0.
Kitbashive is a new design firm in Albuquerque NM where tasty new designs and ideas are being rapidly cooked up. Contact us at 505-796-8781 or on our website Kitbashive.com.