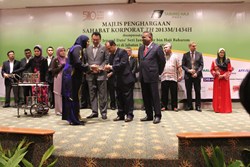 With FLEXISEQ, we look forward to having a safe and effective product to provide to the [7000+] pilgrims, to lessen the pain and make the Hajj more comfortable for them to perform.
Kuala Lumpur, Malaysia; London, UK (PRWEB UK) 5 August 2013
FARMASIA Sdn Bhd and Pro Bono Bio donated FLEXISEQ™ gel to Lembaga Tabung Haji for pilgrims performing their Hajj this year. The donation was acknowledged during a ceremony held at the Lembaga Tabung Haji Headquarters in Kuala Lumpur today. The event was attended by Minister, YBhg Dato' Seri Jamil Khir Bin Baharom from the Prime Minister's Department, the Chairman of Lembaga Tabung Haji, YBhg Datuk Haji Abdul Azeez Bin Abdul Rahim, and its Chief Executive Officer, YBhg Dato' Paduka Ismee Ismail.
FLEXISEQ has also been purchased by Tabung Haji and will form part of the medical team's treatment regime for pilgrims suffering from OA during their Hajj. This purchase, which comes very soon after the product's introduction into Malaysia, is a sign of the overall confidence in the product's benefit.
Besides Tabung Haji, several other institutions and foundations have purchased FLEXISEQ for their pilgrims, with several more showing keen interest in its benefits. This will ensure that a total of over 7,000 Malaysian pilgrims will benefit from FLEXISEQ during the Hajj this year.
FLEXISEQ is a novel, award winning, topically applied gel, that has been available in Malaysia since 2012 and is the latest high profile product to be released in Europe for the treatment of joint pain associated with Osteoarthritis (OA).
Osteoarthritis affects 10 - 20% of the adult population and can be a painful obstacle to a person's mobility and daily activity. "Performing the Hajj involves a physically demanding schedule of walking, and we expect that by applying FLEXISEQ gel, the joint pain experienced by the pilgrims can be relieved, to make the Hajj more comfortable for them to perform. We had a very good response from the pilgrims who used FLEXISEQ for their Hajj in 2012, with many continuing with its use on their return," said Puan Zohrah Al-Aidruss, Director of FARMASIA Sdn Bhd.
She added that because FLEXISEQ is drug-free (it is classified as a Medical Device), it is safe to use by all pilgrims, and is a safe alternative as opposed to many of the conventional painkillers, which carry significant potential side effects. "Furthermore, there are no animal-based components in FLEXISEQ gel," she added.
The donation is a continuation of FARMASIA's CSR activities after the company's first donation of FLEXISEQ to Malaysian pilgrims performing their Hajj in November 2012. For Pro Bono Bio, this donation is part of the company's humanitarian mission and follows its donation of FLEXISEQ to the Hajj pilgrims of Senegal in 2012. This brings in total, the value of donations from both companies to Hajj pilgrims to six figures.
"We have decided to continue this initiative due to the positive response we received from last year's pilgrims who received and used the gel. According to the feedback from last year's pilgrims, applying the gel significantly eased the pain caused by OA in their knees and that helped them tremendously with their journey," said Puan Zohrah
A Lembaga Tabung Haji representative thanked FARMASIA and Pro Bono Bio for their donation, and looked forward to further support in the future. He said that with each Hajj, joint pain was the most widely reported ailment, which their medical teams had to manage.
"With FLEXISEQ, we look forward to having a safe and effective product to provide to the pilgrims, to lessen the pain and make the Hajj more comfortable for them to perform," he added.
FLEXISEQ was launched in Europe and Malaysia in 2012. Since its introduction, this high-profile product has received a tremendous response, and is being prescribed by clinicians in both the government and private sectors as well as being purchased over the counter from pharmacists.
With clinical backing in trials involving 1,400 patients worldwide, FLEXISEQ has been shown to provide a benefit to patients suffering from joint pain associated with OA, showing results comparable to COX-II and Non-Steroidal Anti-inflammatory drugs. It is widely known that these conventional painkillers carry a risk of cardiovascular, renal and gastrointestinal problems, especially in the elderly.
FLEXISEQ contains a unique technology known as Sequessome Technology®, which consists of tiny structures, called Sequessome™ vesicles, that cross through the skin barrier after the gel's topical application. On reaching the inside of the joint, the Sequessome vesicles help to lubricate the joint, reducing pain and increasing mobility. This new technology was developed by Pro Bono Bio, an international healthcare company backed by British and Russian expertise and investment.
For more information please contact:
Farmasia Sdn. Bhd, Malaysia
Director & Head of Communications & Marketing
Ms Zohrah Al Aidruss
Tel: +60 12 3720224 / +603 62032334
Email: zohrah(at)farmasia(dot)com.my
About Farmasia Sdn. Bhd
FARMASIA Sdn Bhd, the local Malaysian distribution company, whose major business includes the distribution of medical supplies to government and private health institutions.
Pro Bono Bio, London
Martyn Smith
Tel.: +44 207 291 5491
Email: martyn.smith(at)pbbio(dot)com
About Pro Bono Bio Group plc
Pro Bono Bio Group Plc is an international healthcare company, which partners with leading scientists, eminent physicians and specialist service providers, to ensure we have access to the best talent available to develop products that target key unmet medical needs.
Pro Bono Bio launched its first medical device treatment, FLEXISEQ in 2012 in Germany. Dermatology products, ROSSOSEQ® and EXOSEQ™, are scheduled to launch later this year.