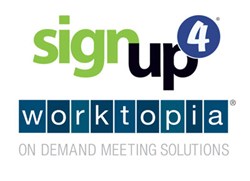 The ability to book small meetings and events online is a significant leap forward not only for SignUp4, but for the industry
Atlanta, GA (PRWEB) August 05, 2013
SignUp4, the leading provider of strategic meetings management technology, has been aggressively re-vamping its dormant small meetings solution, Worktopia. The solution provides new visibility into spend for small to mid-sized business meetings, facilitating control, compliance and cost reduction. Worktopia also assists event professionals by automating the booking process without the need for request for proposals (RFPs), resulting in reduced procurement cycles and overall greater efficiency. "The ability to book small meetings and events online is a significant leap forward not only for SignUp4, but for the industry and meetings management in general. Everyone wins and early feedback from clients has been tremendous," says Brandon Strauss, President of Worktopia. With over one year in development, this re-launch introduces an enhanced front-end interface and re-designed technology. Onboarding of clients and vendors has been successfully expanding.
Event and travel professionals who will be attending this year's GBTA conference in San Diego can learn more at booth #425.
About SignUp4
SignUp4 is the innovative meetings intelligence provider offering the highest quality strategic meetings management solutions with an affordable unlimited usage model. The goal of SignUp4′s meetings intelligence suite is to streamline workflows, simplify and drive registrations, efficiently manage travel logistics, improve communications, and provide visibility into meeting spend for leveraging contract negotiations and increasing ROI. With over a decade of experience, 3,500 users and over 80 of the Fortune 500, we understand the value of your time and events. Learn more at http://www.signup4.com follow us @SignUp4.
About Worktopia
Worktopia, Inc. offers integrated solutions that allow meeting planners to search, compare and book simple meetings and group accommodations online in hotels, business centers and airport lounges worldwide. Worktopia's solutions also serve the needs of corporate executives, by providing new visibility into what their companies are spending on simple meetings, facilitating control, compliance and cost reduction efforts. The Worktopia meetings booking engine can be found at http://www.worktopia.com.