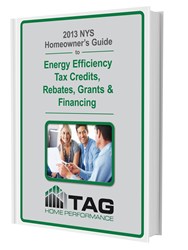 ... we'd like to empower more homeowners in New York State with good information so that they can make beneficial energy efficiency decisions.
Syracuse, NY (PRWEB) August 01, 2013
Syracuse, NY-based mechanical contracting firm TAG Mechanical Systems, Inc. is pleased to announce it has launched a guide entitled 2013 NYS Homeowner's Guide to Energy Efficiency Tax Credits, Rebates, Grants & Financing, a comprehensive one-of-a-kind resource for homeowners that explains the various financing options, tax credits, and other incentives available in much of New York State.
"We've compiled this comprehensive resource because most homeowners either don't know about the information or don't have the time to research the topic," said Ellis Guiles, co-owner and vice president of TAG Mechanical. "Yet there is so much benefit to be gained from taking advantage of some of these programs at little to no cost, or even in some cases at a net gain."
"There are many programs available to consumers that simply aren't being taken advantage of fully," said Guiles, "and we'd like to empower more homeowners in New York State with good information so that they can make beneficial energy efficiency decisions."
New York State homeowners can download the guide free by visiting TAG's homepage at http://www.TAGHomePerformance.com and clicking on the prominently displayed link to the e-book. (Some information presented is not relevant to those living on Long Island, which has different programs.)
Examples of financing options explained in the guide
For example, the guide explains how on-bill recovery allows homeowners to finance energy efficiency upgrades at no cost through energy bill savings that pay for the improvements.
The guide also explains how homeowners can take control of their energy future by using a combo loan to have solar photovoltaic panels installed on their homes. This financing option allows a consumer to install this renewable energy system and pay no more per month than if they simply continued to pay their current electricity bill. For 12 years after installation, the monthly payment would be the same as the home's current electricity bill. And after the 12 years, the homeowner would pay only a nominal fee to be connected to the grid, while generating their own electricity at no cost.
These are just two of the many financing options detailed that encourage homeowners to improve a home's health, safety, comfort, and energy efficiency at minimal expense.
About TAG Mechanical Systems, Inc.
Celebrating 25 years in business during 2013, TAG Mechanical Systems, Inc. is a leading Syracuse, NY-based commercial and residential mechanical contracting firm serving construction professionals, architects, building owners, and homeowners. The company provides design-build, construction, installation, and repair of HVAC and renewable energy systems (including solar photovoltaic, geothermal, and micro-combined heat and power) for a diverse range of commercial facilities and single- and multi-family homes.
TAG Home Performance, a division of TAG Mechanical Systems, provides a full array of LEED and building science services designed to make homes and buildings healthier, safer, and more energy efficient. TAG applies a holistic approach to building systems, not only providing HVAC systems and renewable energy technologies, but also effectively integrating building envelope components including energy-efficient window and insulation.
Founded in 1988, TAG employs more than 80 people and serves more than 15,000 clients throughout Central New York. The company's 32,000-square-foot headquarters in Syracuse includes offices, manufacturing, warehouse and space for vehicle storage and maintenance, servicing a seven-county trading area surrounding the Onondaga County/greater Syracuse region. For more information, visit http://www.TagHomePerformance.com or call (315) 849-9016.