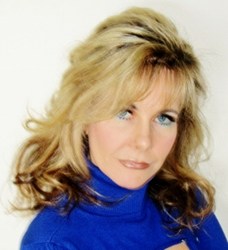 I believe in good and evil.
London (PRWEB UK) 2 August 2013
Debut novel 'Two' from South African author Lizette Smit steps away from the traditional urban fantasy mould to expose the heart of the good versus evil battle common in most genre novels. She bravely avoids all the easy stereotypes of vampires, werewolves and zombies to use something many authors are wary of touching - angels. Using her profound faith as a springboard, she creates a new world into which readers can immerse themselves, and she creates it with evangelical zeal. Her heroine is feisty, her heroes brave, the evil is terrifying and you never forget that the core of this story is God's gift to humanity. It's rare these days for a writer to be brave enough to wear her heart on her sleeve but Lizette's background is ideal in giving her the strength to face down any possible critics. As an ex-model herself and someone who ran an agency to teach young women to be safe and to have positive deportment, she is more than able to deal with all manner of situations.
"I believe in karma and Good always overcomes evil," Lizette said. "Hence the word title 'Two', yin and yang. Good versus evil. Our choices determine our future and we can decide on only two choices, the right or the wrong choice."
Taking such a strong faith position in a debut novel is very brave as most new authors strive to stay away from areas that could cause division amongst the book buying public.
"I believe in angels," Lizette continued. "God tells us that during the last half of the Tribulation Period, he will send forth an angel that will preach the Gospel to the world. I took that as the base for my novel."
Lizette started writing her book four years ago on weekends, initially with no intention of it being published. But once it was completed, she felt moved to take it to Mirador Publishing.
"We were delighted to be offered the opportunity to bring such a life-affirming novel to the market," said Sarah Luddington, Mirador Publishing's Commissioning Editor. "The literary market is going through a dystopian phase and we do try to keep an open eye for something with a positive spin."
'TWO' is available from all good bookshops and online retailers as a paperback and eBook in all popular formats.
Lizette Smit can be contacted via her publishers.
Mirador Publishing can be contacted via their website at http://www.miradorpublishing.com.