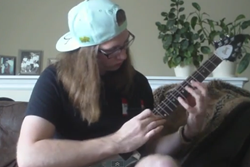 New York, NY (PRWEB) August 01, 2013
Guitar Control, the leader in web-based instruction and comprehensive DVD-based courses, announces the release of "Lead Guitar Lesson - Tapping Guitar Lick in the Style of Eddie Van Halen - Part 1," the first in a series of YouTube videos exploring the techniques of "two-hand tapping" popularized by Eddie Van Halen.
This straightforward lesson explores the basics of two-hand tapping using a sample lick created by the accomplished guitarist and teacher Cameron Rasmussen. Cameron explains the theory of tapping, walks the student through the lick, and demonstrates his approach to the technique, even offering his method for seamlessly switching from tapping to picking.
Eddie Van Halen is often credited as the inventor of tapping. That's unlikely since all guitar playing is largely derivative, and the foundations of tapping are the age-old techniques of "hammering on" and "pulling off" the strings on the fretboard. But Van Halen is certainly responsible for popularizing two-hand tapping and bringing it into the musical mainstream. He is in Cameron's words: "The God of Tapping."
In tapping, both hands are at the fretboard and the notes are struck as they might be on a keyboard. Essentially, the fretboard becomes a quasi-keyboard, which the truly accomplished player can address with all his fingers. Although the technique can be used acoustically, it's most effective when combined with the power and sustain of an electric guitar. In the electric environment, tapping licks can be used to produce uniquely melodic passages or incredibly powerful shreds.
An excellent teacher, Cameron demonstrates the basics and encourages further exploration. In a clear, forthright style, Cameron shows how to tap to produce the tones of a 2-5-1 chord progression in the key of C, using only the notes on the B string. And as with virtually all Guitar Control lessons, tabs (tablature notation) for this tapping lick that the student can print out are only a click away.
"Tapping Guitar Lick in the Style of Eddie Van Halen - Part 1" is a wonderful introduction to two-hand tapping.
Guitar Control is a consortium of professional guitarists dedicated to providing the highest quality musical instruction. Producing both web-streamed lessons and comprehensive DVD-based courses, Guitar Control offers instruction for every style of playing and for all musical genres.