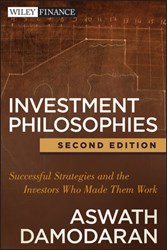 Hoboken, NJ (PRWEB) August 05, 2013
Wiley Global Finance, part of John Wiley & Sons, Inc. Professional Development business, has partnered with SyMynd to develop and offer three online courses taught by New York University professor and prominent Wiley finance author Aswath Damodaran. The first course to be offered is INVESTMENT PHILOSOPHIES, based on Damodaran's book of the same title. The course will be divided into thirty sessions that will include content from fourteen book chapters, thirty-eight video lectures, and self-assessment quizzes where course participants can test their knowledge. The course will open for registration on August 1st, 2013. Two more courses are in development and will be rolled out later in 2013.
To see a full course description of INVESTMENT PHILOSOPHIES, click here.
Aswath Damodaran is Professor of Finance at New York University's Leonard N. Stern School of Business. He has been the recipient of numerous awards for outstanding teaching, including the NYU university-wide Distinguished Teaching Award, and was named one of the nation's top business school teachers by BusinessWeek in 1994. In addition, Damodaran teaches training courses in corporate finance and valuation at many leading investment banks. His publications include Investment Valuation (now in its third edition), Damodaran on Valuation: Security Analysis for Investment and Corporate Finance; Corporate Finance; Investment Management; and Applied Corporate Finance, all published by Wiley, and The Dark Side of Valuation.
SyMynd is a global professional education platform enabling publishers and universities to offer interactive online courses to millions of professionals and executives around the world. SyMynd is unlocking education trapped within universities and textbooks. We are creating an entirely new online education medium that removes boundaries between traditional university course and traditional books.
SyMynd offers one-stop place for professionals to learn and grow their careers by taking course on various subjects from computer science to economics and investments. Courses from the leading professors and authors can be customized for companies and their employees to address their specific requirements. SyMynd's interactive courses combine video lectures, book chapters, and other instructional materials. Course participants can assess their knowledge by taking quizzes and comparing their performance with others. They can also interact and have discussions with professors, authors, and other professions from all over the world. After completing the course, course participants can demonstrate and share their accomplishments with peers and employers.
Wiley is a global provider of content-enabled solutions that improve outcomes in research, education, and professional practice. Our core businesses produce scientific, technical, medical, and scholarly journals, reference works, books, database services, and advertising; professional books, subscription products, certification and training services and online applications; and education content and services including integrated online teaching and learning resources for undergraduate and graduate students and lifelong learners.
Founded in 1807, John Wiley & Sons, Inc. (NYSE: JWa, JWb), has been a valued source of information and understanding for more than 200 years, helping people around the world meet their needs and fulfill their aspirations. Wiley and its acquired companies have published the works of more than 450 Nobel laureates in all categories: Literature, Economics, Physiology or Medicine, Physics, Chemistry, and Peace. Wiley's global headquarters are located in Hoboken, New Jersey, with operations in the U.S., Europe, Asia, Canada, and Australia.