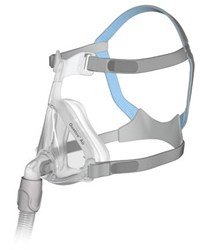 Asheville, NC (PRWEB) August 02, 2013
CheapCPAPSupplies.com, an internet CPAP supply company out of Asheville, North Carolina has added a new product to its already impressive supply list: the ResMed Quattro Air Face Mask.
Patients who suffer from sleep apnea know all too well the struggles to find just the right mask for their CPAP machine. Without a proper fit, patients may toss and turn or have trouble adjusting to the treatment. The ResMed Quattro is a full-face mask that covers both the nose and mouth. This full coverage is a necessary for mouth breathers who suffer from sleep apnea. Of course, having a full face mask allows for CPAP usage even if a patient has a head cold or allergies and is unable to breathe through the nose.
The simple four-part design and light weight of the mask make it a favorite for many patients and sparked CheapCPAPSupplies.com decision to begin carrying the product.
The simple design also makes for easy cleaning and the dual-wall cushioned construction makes the mask more comfortable. Add to that the innovative vent design that directs air away from the wearer and any bed partner, and the dependable face seal, and customers will see why CheapCPAPSupplies.com has decided to add this product to its already impressive list of CPAP Supplies.
As part of the company's commitment to excellent service and affordable products, CheapCPAPSupplies announces that it intends to seek out the highest quality CPAP supplies at the lowest prices available. This customer commitment and constant product review combined with their free 30-day trial on masks help explain the young company's impressive growth.
For information on the ResMed Quattro Air Face Mask and other CPAP products, contact the company at CheapCPAPSupplies.com or call 1-866-298-6482.