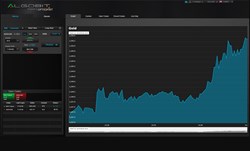 (PRWEB UK) 5 August 2013
TRADOLOGIC has made another pioneering step in the world of binary options by creating the first ever Binary Desktop Platform. The Desktop Trading Platform possesses numerous advantages. Along with the easiness and convenience of trading from one's own desktop, the constant presence of the platform's icon on the desktop reminds the user to trade and make greater trading volumes. The platform also allows user alerts by operator's request in case of special events.
By using the TRADOLOGIC API, operators can customize and build their own unique branded desktop trading platform. TRADOLOGIC also gives them the ability to integrate Signals plugin and Bot systems.
The first two skins of the Binary Desktop Trading Platform are called BinaryEx and AlgoBit and the platform will be officially introduced at the FOREX Magnates Summit in Tokyo on July 17. If you wish to find out more about it, feel free to drop by booth 26-27 anytime or join us at the TRADOLOGIC-sponsored Binary Bar.
About TRADOLOGIC:
TRADOLOGIC is the leading binary options trading platform provider worldwide. We offer superior-quality, progressive and flexible solutions to the financial trading industry. Our goal is to bring our clients exceptional value and give them the possibility to enter the world of open markets, higher player value and massive revenue.
Founded by the pioneers of the Binary Options industry, TRADOLOGIC has built its technology specifically for the binary options trading market. TRADOLOGIC's technology and trading platforms have been extensively refined and enhanced to maintain its position as the most comprehensive, accessible, innovative internet and mobile trading product in the financial trading market. TRADOLOGIC's turnkey solution provides premium features and support tailored to meet the ever-changing demands of the dynamic financial trading market.
If you would like more information please contact us at: info(at)tradologic(dot)com or call us: +357.2203.0390.