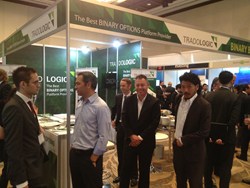 (PRWEB UK) 7 August 2013
The FOREX Magnates Tokyo Summit took place on July 17, 2013. On this event the company had a chance to meet potential Japanese clients and introduce a new product – Binary 100. This new option type allows traders to predict if an event will happen (BUY) and profit the difference between the purchase price and 100. On the other hand, traders can also predict if an event will not happen (SELL) and profit the contract price. The essence of this type of option makes it extremely suitable for the Japanese market.
TRADOLOGIC presented its core activities, as well as this new type of option in booth 26-27 and welcomed prospective clients in the company-sponsored binary bar.
About TRADOLOGIC:
TRADOLOGIC is the leading binary options trading platform worldwide. The company strives for excellence and has a goal – oriented approach. The main reason behind the company's success is its constant effort to satisfy clients' wants and needs by offering creative and innovative products and services that maximize client profit potential.