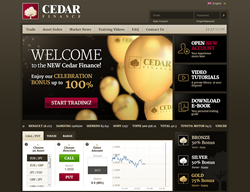 (PRWEB UK) 8 August 2013
The leading binary operator Cedar Finance has introduced its new and enhanced binary trading platform powered by the top binary platform provider TRADOLOGIC. Cedar Finance turned to TRADOLOGIC while searching for a more powerful and efficient binary platform to help them grow their business, after they were not satisfied with their previous provider.
While keeping the existing database and users of Cedar Finance, TRADOLOGIC changed thoroughly the website, introducing a new and revolutionary widget-based trading platform. Widgets are small applications, hosted in a webpage which can be executed by an end user. They are designed to enable integrators to replicate the functionality of the existing TRADOLOGIC trading platform by embedding them in third-party content management system. Widgets allow website owners to have their own websites, built with their own technology, hosted on their own servers, with their own databases while at the same time they use TRADOLOGIC trading platform's capabilities.
Some of the other new features introduced by the company include upgraded platform, new Range and Turbo options, 120 and 300 seconds trading, boosted performance and the ability to scale depending on the traffic.
TRADOLOGIC is a rapidly developing company and proof for this is the fact that two of the top three brokers in the world are currently using the company's trading platform.
Regarding the launch of Cedar Finance's new trading platform, Lior Baruch, VP of Business Development in TRADOLOGIC added:
"We are proud to announce that one of the biggest binary brokers in the world chose to improve their platform by using TRADOLOGIC's binary trading platform. We expect more brokers who want to expand their market share and increase their revenue will understand that in order to grow they need the strong, stable and innovative technology of TRADOLOGIC."
"We recommend to some of these companies to keep their current provider and just to add TRADOLOGIC's platform to their websites so that they can compare and see the advantages of TRADOLOGIC and what makes our company the best binary software provider worldwide."
Cedar Finance is a binary option trading platform founded in 2011. The company is one of the most popular binary operators and is one of the top three brokers along with 24Option and OptionBit (a broker that also uses a TRADOLOGIC-powered platform).
About TRADOLOGIC: TRADOLOGIC is the world's leading binary options trading platform, founded in 2008 by the pioneers in the field of binary options. The company offers innovative and flexible products to the financial trading market. The company's success is caused by its constant strive to offer features that meet the demand of the modern financial trading market and fully satisfy the needs of the company's clients.