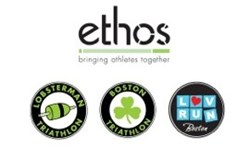 "Tribe shares a commitment to excellence that is a hallmark of ethos events," said Michael O'Neil, founder of ethos. "We are looking forward to a long partnership."
Boston, MA (PRWEB) August 02, 2013
ethos, a mass participation event organization specializing in challenging and unique sporting events, announced Tribe Hummus has signed on to sponsor the upcoming Boston Triathlon, Lobsterman Triathlon and LUV RUN Boston, further enhancing athlete experience at the these events.
At each event, Tribe will be onsite at the finish line with its Hummuseria, a stand-alone booth that delivers a personalized tasting experience. Tribe's Hummuseria brings 'love on the go' sampling stations where consumers can discover first-hand what love and chickpeas tastes like when crafted into hummus.
"At ethos, the athlete experience is our main focus at every event we produce. From registration to competition to post-race events, we are committed to ensuring every athlete feels as though they are involved in a truly exceptional event," said Michael O'Neil, founder of ethos. "Tribe shares this commitment to excellence and offers a healthy product appealing to our athletes. We are looking forward to a long partnership with Tribe."
The first event will be the Boston Triathlon on August 4, 2013. The only swim-bike-run race in Boston, the event takes place on the scenic South Boston shoreline with the Boston skyline providing a perfect backdrop.
The LUV RUN Boston also takes place on August 4, after the triathlon on a separate closed course alongside the Boston Triathlon. This fun, non-competitive, non-timed 5k is aimed at both singles and fun-loving couples. It builds on a growing trend of themed athletic events, bringing together individuals who are looking to meet other active people for a shared entertaining experience.
Finally, the Lobsterman Triathlon, in its 11th year, is a true destination race. Drawing athletes and spectators from 25 states, this spectacular Olympic-distance Triathlon & Lobster Bake will take place on September 14, 2013 in Freeport, ME.
"Sponsoring the Boston Triathlon, LUV RUN and the Lobsterman Triathlon is a perfect fit for Tribe. We see an opportunity to reach a growing audience of individuals who insist on healthier snacking options that don't force them to sacrifice on taste. As part of our involvement in the events, we're looking to showcase that pampered chickpeas grow up to be the most exceptional tasting hummus," said Adam Carr, President and Chief Chickpea Officer, Tribe Mediterranean Foods.
"ethos has a strong vision of creating an exceptional experience for everyone involved in the events, from athletes to sponsors, volunteers and the community," continued Carr. "We are proud to be part of these upcoming events."
Registrations for all events are now open. For more information or to register, visit http://www.active-ethos.com .
About ethos
e•thos |ˈēθäs| the characteristic spirit of a culture or community as manifested in its beliefs and aspirations. ethos is a mass participation event organization created to bring athletes together through challenging and unique sporting events. For more information about ethos events and to register, please go to http://www.active-ethos.com.
About Tribe Hummus
Tribe Hummus is dedicated to the craft of creating exceptional hummus, taking incredible care with each individual chickpea and ensuring that every small batch of hummus is perfect. Tribe Matchmakers put love into every bowl of hummus, hand-selecting only the highest quality, natural and simply delicious ingredients. Available in a variety of delectable flavors, Tribe Hummus products are kosher-certified, vegan-friendly and free of artificial flavors, preservatives, cholesterol, hydrogenated oils and high-fructose corn syrup. Tribe Hummus is available at fine grocery stores nationwide, including Albertson's, Jewel-Osco, Shaws, Shoprite, Stop & Shop and many more. For more information, visit http://www.tribehummus.com and http://www.facebook.com/TribeHummus.