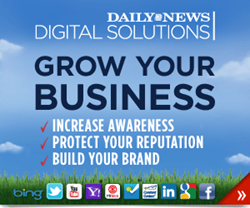 Businesses know that when they partner with us, they are partnering with an organization that wants to see them succeed.
New York, NY (PRWEB) August 01, 2013
Daily News Digital Solutions, a leading provider of Internet marketing solutions, is doing its part to stimulate the local economy this summer by creating new jobs and expanding its Internet marketing solutions to help small and medium-sized businesses become more profitable. DNDS is proud to be partnered with hundreds of businesses in the New York City metro area, Long Island, and New Jersey.
"Businesses know that when they partner with us, they are partnering with an organization that wants to see them succeed," said DNDS Vice President Michael Flaminio.
Their Internet marketing services help businesses boost their customer base by giving them the tools to establish and strengthen their online presence. As a result, companies partnered with DNDS are yielding a higher return on investment (ROI) which in turn leads to increased financial resources, making local businesses capable of hiring more employees and stimulating the local economy.
With an ever increasing number of consumers researching local businesses online via mobile devices prior to becoming customers, DNDS stays current by offering more responsive web designed products and services such as websites, search engine marketing, social media and more.
In order to keep up with demand while adding more people to the workforce, DNDS is hiring additional Google AdWords-certified Digital Consultants, ensuring that DNDS remains at the forefront of the local Internet marketing field. As the world of Internet marketing continues to grow at a blistering pace, DNDS knows how to make it easy for local businesses who may have thought that harnessing the power of the Internet was out of reach.
Daily News Digital Solutions further continues its focus on the local economy by organizing educational events with various Chambers of Commerce to introduce internet marketing to entrepreneurs and business owners. These presentations stress the importance of maintaining a strong online presence in today's business world.
Visit Daily News Digital Solutions to schedule a free consultation. The professionals at Daily News Digital Solutions are ready to show how Internet marketing can help grow businesses.
About the Company:
Daily News Digital Solutions hosts a comprehensive Internet marketing service in New York and New Jersey that works to organize, establish, and manage the web presence of a variety of clients and businesses in the New York / New Jersey metropolitan area. By utilizing industry-leading techniques and fresh research, Daily News Digital Solutions' Internet marketing services benefit from a cutting edge approach that is dynamic and effective. Customers will see their web presence swell from a campaign that utilizes multiple platforms of Internet marketing including: web design, search engine marketing, search engine optimization, email targeting, press releases, social media, reputation management, mobile and more.
Daily News Digital Solutions proudly partners with LocalEdge, a Hearst Media Services Company, the premier multi-media company leading the transition to web-based advertising for any size business. LocalEdge has been in business for more than 40 years and services customers nationwide, partnering with leading newspaper brands. When customers count on the experts at Daily News Digital Solutions, they'll have the peace of mind knowing that they're being backed by the best Internet marketing company in New York City with years of experience and expertise with local businesses. Visit their website for more information or visit them on Facebook at http://www.facebook.com/dailynewsdigitalsolutions.