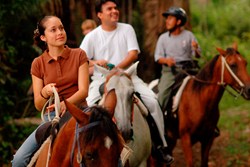 "It's great that as more families respond to what Chaa Creek offers, Chaa Creek responds with even better deals."
San Ignacio, Belize (PRWEB) August 03, 2013
The Belizean ecotourism market is experiencing a rise in its "adventure travel" niche, and surprisingly, the increase is fuelled by a group not usually associated with adventure – families.
According to the Lodge at Chaa Creek's marketing director Larry Waight, the rise in numbers this year is driven by the desire to share more meaningful experiences, and combined with the rising costs of having a family holiday at home, that's making all-inclusive family vacation packages an attractive option.
"The feedback we get from guests at Chaa Creek suggests that many families have already done the theme park thing and are looking for something different, something a bit more adventurous that they can all share together as a bonding experience," Mr Waight said.
"They're also finding that once they weigh up the costs of a family holiday and add up all the bits and pieces, overseas package deals can actually be a more affordable option in the long run. For example, our all-inclusive Belize vacation packages include absolutely everything for a complete family vacation for one low set price, and as an end-of-summer special we just added some complimentary offerings to our family package that makes a Belize family adventure even more attractive."
Mr. Waight said that starting this month, the Lodge at Chaa Creek has added a complimentary two-mile downstream inner tube float on the Macal River from the Belize Botanic Gardens to Chaa Creek as part of the all-inclusive Belize Family Adventure package, with optional guided floats.
"We get a lot of positive feedback about the Family Adventure package but decided to add this end-of-summer special after one of our naturalist guides suggested it. It really is a great addition, with guests able to visit the Belize Botanic Gardens and then have a leisurely downstream float back to Chaa Creek, meandering along the placid Macal River with pristine rainforest on either side. It's a great way to see toucans, iguanas, monkeys and other jungle wildlife undisturbed in their native habitat," he said.
The Lodge at Chaa Creek, Belize's first eco-resort, sits within a 365-acre private rainforest nature reserve on the banks of the Macal River at the foothills of the Maya Mountains. Miles of secure, well-maintained trails used for horseback and mountain bike excursions and nature walks connect 70 ancient Maya archaeological sites as well as a butterfly farm, Natural History Centre, Hilltop Spa, infinity pool, canoe landing, the Maya Medicinal Plant Trail and the Maya organic farm which supplies the fine dining restaurant and Jungle Lounge.
Mr. Waight said that Chaa Creek's all-inclusive Belize holiday deals include everything from the moment guests arrive at Belize's International airport until they depart, including all transfers, rustic-luxe cottage accommodation, meals, activities and complete access to Chaa Creek's 365 acre private rainforest reserve, which includes miles of trails for horseback or mountain bike riding, canoeing, pool, Natural History Centre, Butterfly farm, Hilltop Spa, fine dining restaurant and Jungle Lounge.
"Travel agents began referring to us as a 'destination within a destination' because we have everything right here for a complete, secure and diverse Belizean travel experience. And with the new airstrip at Maya Flats and regularly scheduled flights to Ambergris caye and Belize City, our guests now enjoy easy access to Belize's Caribbean coast and the Belize Great Barrier Reef," he said.
"As a family-run and family oriented-eco resort, we're happy to see that we keep attracting groups of relatives looking to share something like this together. I think that's one of the reasons why owners Mick and Lucy decided to add another complimentary offering to an already full mix of things to do.
"It's great that as more families respond to what Chaa Creek offers, Chaa Creek responds with even better deals," he said.