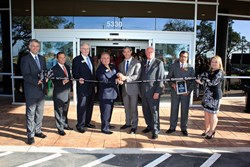 San Antonio, TX (PRWEB) August 01, 2013
Victory Healthcare celebrates the grand opening of their newest location in San Antonio, a state-of-the-art facility on the city's Northwest Side. The new Victory Medical Center Landmark is located at 5330 N. Loop 1604 West at the intersection of Vance Jackson Road and Loop 1604.
"It is an honor to open the doors of our newest Medical Center in San Antonio," says Robert N. Helms Jr., Chairman/CEO of Victory Healthcare. "Victory is thrilled to offer the San Antonio community a first-class experience with revolutionary technology and one-on-one personalized care in its newest location."
The grand opening celebrations included a ribbon cutting ceremony on July 31, 2013 with remarks from Victory Medical Center Landmark CEO Alex Garcia, City Councilman Ron Nirenberg and Assistant City Manager Carlos Contreras as well as the presentation of a plaque from the Greater Chamber of Commerce in San Antonio and a ribbon cutting with the North San Antonio Chamber of Commerce.
"In order to provide our physicians and patients with first-class care, Victory Medical Center Landmark is equipped with the latest technology. The hospital is also designed to give our patients and their families the comfort and personal attention they deserve in their recovery," says Alex Garcia, long-time San Antonio resident and CEO of Victory Medical Center Landmark. "This is a state-of-the-art hospital and a large part of that is our medical staff. We strive for the highest quality care and we insist on a culture of compassionate care."
The Medical Center will hold a community open house on August 1, 2013 from 6:00-7:30 p.m. The new surgical hospital will employ over 250 of San Antonio's best nurses and medical professionals.
The new Medical Center will have 25 oversized patient suites with concierge services, six oversized surgical suites, three special procedure rooms and an adjoining 82,000-square-foot, high-end medical space.
Victory Medical Center Landmark will specialize in neurosurgery, orthopedic surgery, neuro-spine surgery, bariatric surgery, ENT, gastroenterology, general surgery, gynecology, hand surgery, joint replacement, orthopedic surgery, pain management, physical therapy, plastic surgery, podiatry, spinal surgery, sports medicine, and urology.
As in other Victory Healthcare facilities, patients at Victory Medical Center Landmark enjoy personalized care and attention, including a one-to-one nurse to patient ratio in one of the private patient suites, all of which offer Wi-Fi Internet connectivity, cable television and oversized floor plans to comfortably accommodate family and friends.
About Victory Healthcare
Based in The Woodlands, Texas, privately owned Victory Healthcare is creating the standard in surgical care through its growing network of specialized surgical hospitals, training and education centers, and the only privately held tissue bank in the state of Texas. Our surgeons are the most highly trained and respected physicians in their fields, committed to providing revolutionary technology and minimally invasive treatment techniques. We create a first class experience for our patients in our state-of-the-art facilities that include concierge services, a one-to-one nurse to patient ratio, and personalized service in an environment designed to promote comfort and healing. Victory Healthcare partners with physicians to create an exceptional surgical experience for our patients, their families, and our surgeons. Learn more about the Victory difference – a dedication to healing through education, technology and first-class care - at victory-healthcare.com or follow us on Twitter @VictoryCor.
About Victory Medical Center Landmark
Victory Medical Center Landmark is a private surgical hospital that provides leading-edge technology and superior personalized care from the region's top physicians. Patients will experience the Victory difference - a dedication to healing through education, technology and first-class care – at any one of Victory Healthcare's surgical hospitals. At Victory Medical Center Landmark, patients will receive first-class care including a dedicated nurse, private, spacious patient suites, and luxury amenities such as gourmet food, Wi-Fi, high quality linens and convenient front door parking. Victory Healthcare operates in partnership with our physicians to create a new standard of surgical care. For more information, visit us at victory-healthcare.com/sanantoniolandmark/ or follow us on Twitter @VMCSA.
# # #