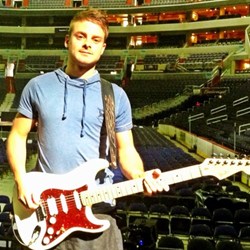 We believe that Dan's a great fit for our clothing... [he has] exactly the sort of values that Gifted Heroes represents.
London, England (PRWEB UK) 5 August 2013
It's been a thrilling year for experienced young guitarist Dan Richards, who has moved from strength to strength during the course of his career. The graduate of the London College of Music has worked with a series of up-and-coming artists, appeared on popular television shows such as The X Factor and BBC Children in Need, and is now performing in front of thousands as the guitarist of choice for boy band One Direction.
Dan took time out during the U.S. leg of the band's world tour, titled Take Me Home, to tell fans about his partnership with London streetwear brand Gifted Heroes. This announcement took the form of a photograph which was released on Twitter to the guitarist's audience of over 480,000 followers. Posing for the picture in one of his new shirts, guitar slung over his shoulder, Dan is seen to be standing on the stage of Washington D.C.'s Verizon Center during a soundcheck. Also visible is a sea of empty seating. Over 18,000 devoted fans attended later that day to hear the band's hit singles performed live.
The guitarist and streetwear brand have much in common. Both originate from London, where the Gifted Heroes founders set up shop in the East End's famous Brick Lane. Hiring an ambitious, diverse, and passionate team of young designers, Gifted Heroes set out with the aim of injecting some individuality and attitude into the UK streetwear market. Thanks in no small part to their drive and desire to create something different, the brand has moved from strength to strength, picking up endorsements not only from Dan but from professional bodybuilder Neale Cranwell.
"We believe that Dan's a great fit for our clothing", design director Steve Collier said of Gifted Heroes' newest fan. "He's a talented guy who got where he is today through sheer hard work, determination, and constant self-improvement. Those are exactly the sort of values that Gifted Heroes represents".
As well as the Undercover top that he is seen to be sporting in the photo, Dan has also been wearing the Live Fast & Dog Tag tees, as well as the more risqué Existence design.
The hard work isn't over yet for either Dan or Gifted Heroes. One Direction's world tour continues, with the band playing shows almost daily throughout the U.S. and Canada until their final North American show in Los Angeles on August 10th. Dan and the boys will have a month to recover before commencing the Australasian leg of their tour in Adelaide. Meanwhile, the designers at Gifted Heroes are busy creating and refining new ranges to reflect their slogan - that "Attitude is Everything".
The full range of Gifted Heroes clothing can be viewed and purchased online via their website http://www.giftedheroes.com.