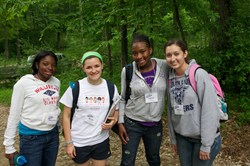 "Girls can identify areas of need in their own community, and be challenged to find innovative ways to improve the world around them using sustainable solutions that create social value," said Dr. Ingrid Guerra-Lopez.
Detroit, MI (PRWEB) August 02, 2013
Girl Scouts of Southeastern Michigan (GSSEM),Michigan Women's Foundation (MWF) and the Women Officials Network (WON) will present Camp Moxie, a four day leadership adventure for girls at GSSEM's Camp Hawthorn Hollow in Columbus, MI. More than 90 high school aged girls will attend Camp Moxie, August 4-8, 2013, and participate in interactive workshops led by women business owners, executives, and elected officials. Girls will also participate in an anti-bullying social media research project headed by Wayne State's College of Education.
"We are excited to join with our partners to bring renewed focus to this year's Camp Moxie, and help girls learn to identify a community or social problem, and pro-actively address that problem by establishing a 'for-profit' or 'non-profit' organization, advocating to policy-makers or legislators, or developing a platform and running for public office," said Denise Dalrymple, CEO of GSSEM. "We are thrilled to offer so many girls opportunities to learn from and network with women social entrepreneurs who are taking action to change their communities, and the world, which is really what Girl Scouting is all about," Dalrymple concluded.
The theme of Camp Moxie 2013 is social entrepreneurship and civic activism. Girls participating in the Wayne State research project will use social networks including Twitter to collaborate and solve the problem of bullying. Each day, they will be given guided questions related to a problem-solving framework that will solicit communication and feedback about the problem definition, related causes, solution criteria, and possible solutions.
"Just as business entrepreneurs create and transform whole industries, social entrepreneurs act as the change agents for society," said Dr. Ingrid Guerra-López of the Wayne State College of Education. "Girls can identify areas of need in their own community, and be challenged to find innovative ways to improve the world around them using sustainable solutions that create social value," Guerra-Lopez explained. She said that the ultimate goal is to increase interest in STEM related disciplines, specifically technology and math, among young women. The research team is led by Guerra-Lopez and Dr. Monica Tracey from the College of Education.
Other highlights of Camp Moxie include:

Anne Doyle, author of "Powering Up" and City Councilwoman of Auburn Hills
Keynote presentation—Monday, August 5, 2013, 9:00am
Veronika Scott, founder and director of The Empowerment Plan
Keynote presentation—Tuesday, August 6, 2013, 9:00 a.m.
Speed mentoring, 1:30 p.m. – 3:30 p.m.
Facilitated by women business owners, corporate executives/managers; attendees will have brief networking opportunities with more the 20 professionals.
Camp Moxie Social Entrepreneur and Civic Activism Tours—Wednesday, August 7, 2013, 10:00 a.m. – 5:30 p.m.
Girls will spend the day visiting Detroit area non-profits and businesses including:
o The D:Hive
o The Department of Alternatives
o Hostel Detroit
o Good Girls go to Paris Crepes
"Camp Moxie empowers and inspires young women to use their leadership skills to affect positive change in their lives, their schools, and their communities," observed WON Foundation President Mary Kerwin. "The tools provided and connections made have a long lasting impact in their lives and in our shared future. We are proud to support this dynamic leadership experience for young women."
The presenting sponsors are bringing Camp Moxie to Michigan girls with the shared goal of participants completing the experience prepared and confident to create change in their lives and the lives of others. "The Michigan Women's Foundation is so proud to be part of Camp Moxie once again. Partnering with the Girl Scouts is an honor and we are grateful for the opportunity to help another group of "moxie girls" realize their full potential. Even as adults, we can't wait each year to attend Camp Moxie and become reinvigorated and inspired to continue our mission of creating positive change for Michigan's women and girls."
Girl Scouts of Southeastern Michigan (GSSEM) is the local council chartered by Girl Scouts of the USA (GSUSA) to facilitate the Girl Scout Leadership Experience (GSLE), designed to help girls develop leadership skills through three key elements—Discover, Connect and Take Action. Each element has a set of five outcomes including girls develop a strong sense of self (Discover); girls develop healthy relationships (Connect); and girls can identify community needs (Take Action).
GSSEM serves more than 40,000 girls and adult volunteers in Oakland, Macomb, Genesee, Lapeer, St. Clair, Sanilac, and parts of Wayne, Monroe and Livingston Counties. GSSEM provides a girl-led, girl-centered, fun-filled quality leadership experience.
Michigan Women's Foundation is a statewide non-profit organization promoting economic self-sufficiency and investing in improving the lives of women and girls. Since its inception in 1986, MWF has raised and awarded more than $3,600,000 to over 400 non-profit agencies empowering women and girls. The Foundation's 25 years of championing the causes of social justice for women and girls through public and grantee education, philanthropy and advocacy have changed the lives of many. MWF builds leaders and philanthropists by funding programs that promote economic self-sufficiency and improved well-being for women and girls.
MWF is committed to creating a world free of gender barriers that nurtures women and girls to reach their fullest potential for success. This is accomplished by providing economic support and programs needed to raise awareness, build skills and empowerment. For more information about MWF, visit our website at http://www.miwf.org.
The Women Officials Network, a non-partisan organization founded in 1997, envisions more women in leadership positions at all levels of government in elected and appointed office by empowering the leaders of today and mentoring women leaders of tomorrow. The WON Foundation supports that vision through initiatives that train and inspire current & future policy makers, including sponsorship of the WONDER WOMAN AWARD, recognizing women who make a difference in the lives of others. In 2012, the WON Foundation became a sponsor of Camp Moxie - a four-day leadership adventure for high school girls - in partnership with the Girl Scouts of Southeastern Michigan and Michigan Women's Foundation as well as a sponsor of "Me, Run for Public Office?" in partnership with the State Bar of Michigan Young Lawyers Section. More information is available at http://www.womenofficialsnetwork.org.