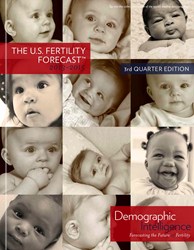 Thank you for providing these reports. It is one of the key data inputs for our company to predict the future trends. - 8/1/13 Analyst for Fortune 50 company
Charlottesville, Virginia (PRWEB) August 01, 2013
"The United States has seen marked declines in childbearing in the wake of the Great Recession," said Sam Sturgeon, Ph.D., president of Demographic Intelligence. "But we think that this fertility decline is now over. As the economy rebounds and women have the children they postponed immediately after the Great Recession, we are seeing an
uptick in U.S fertility."
Drawing on an extensive analysis of demographic, economic, and cultural trends, the new report from DI provides detailed projections of U.S. birth trends in 2013, 2014, and 2015. This edition of The U.S. Fertility ForecastTM also focuses on the links between religion and childbearing for the first time. Among its findings:

Religious attendance is associated with higher levels of completed fertility and intended fertility in the National Survey of Family Growth. Specifically, among those aged 15-44, women who attend weekly or more have 1.42 children, compared to the 1.11 children had by women who rarely/never attend religious services. This report indicates that more religious women also intend to have more children than their less religious peers, such that women who attend weekly intend to have 2.62 children and those who rarely/never attend intend to have 2.10 children.
These religious differences also influence the share of births to religious mothers in the United States. Even though women who attend religious services monthly or more only make up 51% of women aged 15-44, 56% of births in the United States are to women who attend such services.
Dr. Sturgeon said, "Partly because religious communities provide a family-friendly context to the women who attend them, religious women are more likely to have children, and to bear a comparatively high share of the nation's children, compared to their less religious or secular peers."
The U.S. Fertility ForecastTM is typically more than 98 percent accurate in predicting U.S. birth trends. The forecast model proved 99.92 percent accurate in predicting total 2011 births. "This report fills a critical gap for executives and analysts working in the health care and juvenile products industries," noted Dr. Sturgeon. "DI's projections are particularly important because the economic and cultural drivers of fertility are changing so much today. Thus, Demographic Intelligence gives companies a clear sense of the demographic road ahead."
# # #
About Demographic Intelligence
Demographic Intelligence (DI) is the premier provider of U.S. birth forecasts and fertility analytics for businesses with an interest in birth trends in the United States. DI provides reports and consulting services to companies in the following sectors: juvenile products, healthcare, media, financial services, consumer food, and household products. Demographic Intelligence is advised in its work by three leading demographers: Princeton economist Alicia Adsera, University of Pennsylvania demographer Hans-Peter Kohler, and University of North Carolina demographer Philip Morgan.