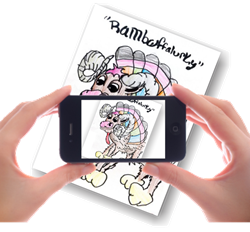 What animals would you combine to make the ultimate stuffed animal?
Charlotte, NC (PRWEB) August 01, 2013
What if a child could design stuffed animals by mixing together favorite animals? Thanks to Genetipetz and its new toy design contest, now children can. Genetipetz invites kids of all ages to participate in a design contest to create the next line of mixed up, super-soft, loveable and huggable stuffed animals. By partnering with their fans, Genetipetz will create a whole new line of animal friends never seen before in the plush toy market.
An innovative toy idea that became a reality through crowd funding site Kickstarter, Genetipetz combines the best characteristics of two to four different animals into amazing hybrid creatures to celebrate science and diversity. Each animal also has an embedded chip that interacts with smart phones and tablets, connecting with online educational content and games, and enriching the Genetipetz "owner's" play experience.
"Through this new design contest, we encourage people to use their imaginations to help us create a new world of animal friends that probably couldn't exist in the real world," says founder Christopher Meade. "Since Genetipetz really exists because of our fans and for our fans, we are thrilled to involve them in the creative design process for our next line of toys."
Recognizing this huge, loyal fan base, Genetipetz invites people to submit drawings for consideration via email between now and September 30th. (See submission process below.) Winning designers will receive the first production version of their suggested pet for free and be inducted into the Genetipetz Designers Hall of Fame. Winning designs will join the other three Genetipetz animal friends currently in production, including the Mooraffe, Zebugraphant and Snurtlegator. Winners will also see their toys featured at the 2014 Toy Fair in New York City.
Meade, former CEO of NPower, and his wife, Carolyn, launched Genetipetz with their two sons, Jackson, 10, and Cavan, 8, to teach them how to start a company from the bottom up. What started as an entrepreneurial family project, is now a reality with manufacturing and distribution of the first line of toys well underway. The two boys have worked extremely hard and are excited that this dream is now a reality.
"We are thankful for all of our fans' support and can't wait to see the next round of design concepts submitted," says Meade. "Start sketching two to four animal combinations you'd like to see us make and get your own voting block ready to push your idea to the top."
How to Submit A Design
Draw a picture of a mixed up Genetipetz pal, take a picture with a mobile phone and email it to designcontest(at)genetipetz(dot)com. Genetipetz will bring winning designs to life, making them into super-soft stuffed animals. Everyone is encouraged to enter as many times as they like before September 30th. Contest voting will open on August 1st. Designers 13 years and younger will need a parent to help them register their drawing. Visit http://www.mygenetipetz.com/designcontest.aspx and http://www.facebook.com/genetipetz for more submission and contest details.
About Genetipetz
Genetipetz is a new company based in Charlotte, NC that creates unique stuffed animals for creative kidz by combining the DNA structures of different animals. Founder and CEO, Christopher Meade was inspired by his children to develop Genetipetz and show children around the world the strength of diversity. Meade's two children, Jackson and Cavan, serve as Vice Presidents of Design and Marketing of Genetipetz, respectively. For more information on the company, visit their website at http://www.genetipetz.com, Like Genetipetz on Facebook and Follow them on Twitter @Genetipetz.