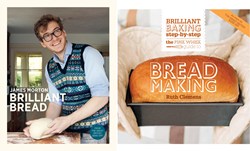 (PRWEB UK) 3 August 2013
The kitchen's heating up, buns are flying, there's flour everywhere – it's the Great British Book Off! This August, two of the finalists from the BBC's hit baking and cake-making show The Great British Bake Off are inadvertently going head-to-head as they each publish their own bread-making books.
James Morton, who narrowly missed winning last year's series, is due to release his first book Brilliant Bread on 29 August, from Ebury Publishing. Sporting his characteristic Fair Isle jumpers and creating some truly unique showstopper bakes – including a haunted-looking, derelict gingerbread house – former medical student James quickly became a popular contestant on the show.
Brilliant Baking aims to demystify the art of bread-making by showing just how easy (and fun) it is to make your own bread at home, using basic supermarket ingredients like value flour and instant yeast. James shares his delicious, no-nonsense recipes for basic loaves, flatbreads, buns, sourdoughs, focaccia and more!
Squaring up to James is Ruth Clemens, finalist from the first ever series of the Bake Off, who is publishing her book The Pink Whisk Guide to Bread Making on 30 August, from David & Charles. Unlike James, Ruth is no debut author – she is the author of the bestselling Busy Girl's Guide to Cake Decorating and the recent Pink Whisk Guide to Cake Making.
Busy mum Ruth runs the wildly popular Pink Whisk blog and has made it her mission to show time-pressed parents how quick and easy it can be to bake your own bread at home. The Pink Whisk Guide to Bread Making includes tasty recipes for Crusty Cobbs, Tiger Bread, Ciabatta, Danish Pastry, Chocolate and Hazlenut Wheels, Brioche Pizza, Savoury Bagels and more, plus time-saving tips and flavour variations for each recipe.
Both books are packed with gorgeous recipes that would be the perfect accompaniment to this year's series of The Great British Bake Off, which is judged by Mary Berry and Paul Hollywood, and hosted by Mel Giedroyc and Sue Perkins. The show is due to air towards the end of August when the books are due to be released and the bun fight will begin!