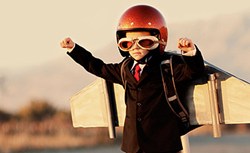 PlanMySite's rebranding represents our evolution and direction. It is a logical step in our growth.
Brick, New Jersey (PRWEB) August 02, 2013
PlanMySite, a New Jersey-based web design company, announced that it has rebranded. PlanMySite will begin operating under the new trade name INCORE effective immediately. With the adoption of its new brand, tagline and logo, INCORE has simultaneously launched their redesigned website http://www.incore.com. The new identity is the positive outcome of the company's broadening footprint, unprecedented growth, and increasing recognition. The rebranding will continue to build and foster INCORE's unparalleled dedication to offering innovative technology solutions.
INCORE provides strategic consulting services that range from strategy, planning, branding, and web design to online marketing, mobile applications, and social media marketing.
"PlanMySite's re-branding represents our evolution and direction," said CEO Tomasz Banas. "This change is a logical step in our growth and gives us an umbrella under which we can continue to expand our products, services, and locations during our next phase of growth and development. The PlanMySite name and brand served us well, but over the years we didn't mature the brand as fast as the agency evolved. We are so much more than a New Jersey web design firm and this represents an important step to better communicate our value proposition."
The new website debuts a fresh look and more details about the company's expanded services. It also includes information about the many prominent clients INCORE has worked with including Microsoft Partner of the year Concurrency, Kean University, Zweigart, Caregiver Volunteers of Central Jersey, and more.
"We really wanted our website to reflect INCORE's style and innovative attributes and at the same time showcase that we are a company that has a lot to say," says Paul Poturalski, INCORE's Project Manager. The completely redesigned website included design elements that subtly convey brand characteristics of the company and its products: modern, efficient, precise, purposeful, and focused.
"Our new brand identity communicates to both current customers and potential customers that we continue to provide products and services that consistently outpace our competitors," Banas said. "In today's digital world, our clients need more than websites. Many want to enhance their customers' experience with mobile offerings and social media services. Others are looking for a strategy firm that truly understands the components of good branding. INCORE encompasses all of this so we can be a one-stop shop for our clients.
"The INCORE brand helps mirror the fact that we're an innovative and forward-looking company with a commitment to ensure the success of every client we serve," Banas added.
# # #
INCORE is a New Jersey based all-inclusive digital agency that provides web design, mobile app development, and online marketing services. For more information and to view client work, visit http://www.incore.com.
# # #