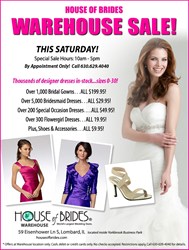 Industry Consultant Dale Buziecki says of the Warehouse Sale, "This event is perfect for brides, wedding parties, guests or anyone looking for a designer dress at incredible savings and ready to wear now!"
Lombard, IL (PRWEB) August 01, 2013
Final preparations are being made at House of Brides' warehouse located at 59 Eisenhower Lane South in Lombard. The bridal retailer is reporting the 1- day event is near appointment capacity but is making accommodations to serve every appointment made for the sale.
The fervor is attributed to new discounts advertised exclusively for this Warehouse Sale. The entire inventory has been marked down to flat prices. All wedding dresses are now $199.95. Bridesmaid dresses are $29.95. Mother of the Wedding and special occasion dresses are $49.95 and flower girl dresses are $19.95. Shoes and accessories are $9.95.
In addition to the low prices, the warehouse boasts a large inventory available for immediate purchase. Featured are over 1,000 wedding dresses, 5,000 bridesmaid dresses, 200 Mother of the Wedding and special occasion dresses and over 300 flower girl dresses.
The retailer's approach attracts customers on a budget and restricted on time.
Industry Consultant Dale Buziecki says of the Warehouse Sale, "This event is perfect for brides, wedding parties, guests or anyone looking for a designer dress at incredible savings and ready to wear now!"
The Warehouse Sale is Saturday, August 3rd 10:00 a.m. – 5:00 p.m. The sale is available at the warehouse location only and not offered at House of Brides' other salons.
The warehouse is located at 59 Eisenhower Lane South in Lombard, Illinois inside the Yorkbrook Business Park and open to the public exclusively for advertised sales. Saturday's event is by appointment. Customers may call 630-629-4040 to arrange their 1-hour appointment. Walk-ins will not be accepted.
The Warehouse Sale ad is viewable on House of Brides' website.
About House of Brides:
House of Brides established its first brick-and-mortar store in 1929 and has since grown to 11 Chicagoland stores and global E-Commerce website, http://www.houseofbrides.com. Millions of brides and their wedding parties visit the salons and global website for over 50,000 wedding and special event products.