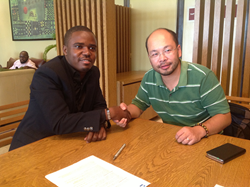 Lagos, Nigeria (PRWEB) August 02, 2013
Jobberman.com, the jobs website with the largest catalogue of jobs in Nigeria has entered into a partnership Afmobi, the makers of PalmChat to power the first digital mega chat room on employment opportunities and career advice.
The mega chat room which will be named Jobberman Career ChatRoom will be a default chat room available on Palmchat installations in Nigeria and Ghana. The chat room will have a daily supply of messages on job updates to be sent automatically by PalmChat in the chat room to members. The chat room will also be a space for various discussions on work and career related topics.
Palmchat is a mobile messenger application on which users can send & receive voice messages, pictures and text messages via data. It also supports group chat and location based services which offer users totally different experiences. Palmchat is available on multiple platforms including Android, JAVA, Symbian, Blackberry and WAP now.
The partnership which was signed off on the 26th of July at Four Points Hotel, Lekki Lagos marks the beginning of a formidable partnership giving easy access to information and discussion on jobs, employment issues and career advice.
"Our partnership with PalmChat has succeeded in building a platform for graduates and professionals to meet and discuss issues that concern career, jobs and work environment" says Opeyemi Awoyemi, Co-founder and Senior Vice-President, Jobberman.com.
Jobberman is the biggest jobs website in West Africa with over 800,000 users and 11,000 companies providing the latest jobs in Nigeria. Its headquarters is located in Lekki Lagos, Nigeria.