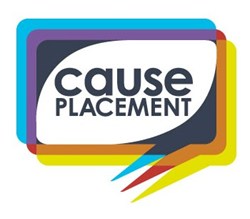 "Cause placement creates a harmony between entertainment and non-profits that people can resonate with." Jay Harren, VP of A&R and Artist Development at Sony Music Entertainment's Descendant Records
New York, NY (PRWEB) August 02, 2013
More than 300 top leaders from the worlds of entertainment and social good will gather in New York City on October 10, 2013 for the second-annual Entertaining Good event hosted by CausePlacement.com.
As product placement continues to integrate with entertainment content, charities and non-profits are seeking authentic and accurate strategies for embedding their cause into television shows, film, music, publishing, and theater. Entertaining Good brings together entertainment leaders and nonprofit communication executives to provide insights and best practices that go far beyond red carpets and black-tie galas to focus on strategies that integrate cause messaging into everyday consumer content and experiences.
"Cause placement creates a harmony between entertainment and non-profits that people can resonate with. By embedding cause-related content into entertainment platforms, we can help reach audiences to foster conversations and fuel greater charitable engagement," said Jay Harren, VP of A&R and Artist Development at Sony Music Entertainment's Descendant Records. "Whether it's through an athlete or celebrity utilizing their influence to further a noble cause, or the integration of meaningful messages into music or television programming, cause placement can create actionable, measurable change for causes."
Last year CausePlacement.com pioneered its first Entertaining Good event and educated hundreds of non-profit leaders how to implement cause marketing and placement into their professions through case studies and top industry members' insight.
"It was a line-up of speakers that provoked stimulating discussion and offered practical solutions that I could share with my organization," said Mike Drachkovitch, Manager of Marketing and External Relations at ONE.
This year's Entertaining Good event will take place at the Scholastic Auditorium in SoHo and will offer a day of informative case studies along with intensive breakout sessions to fuel a high-energy day of learning for participants. Throughout the day, panelists from top entertainment brands will talk about their personal experience through intriguing case studies and entertainment examples. Not only will attendees be introduced to an elite understanding of the entertainment and media industries, but they will also be provided with unique opportunities to present their own work in small, intimately sized meet-ups with the speakers.
Among this year's newly featured event speakers will be Chidi Achara, VP of Creative Services at Cole Haan; Jed Bennet, Director of Marketing at Penguin Publishing; Lori Feldman, Senior VP of Brand Partnerships at Warner Brothers Records; Tony Hale, American actor noted for his roles in Arrested Development and Veep; Christian McGuigan, Director of Social Action Film Campaigns at Participant Media; and Jason Rzepka, Senior VP of Public Affairs at MTV. Also joining the conversation will be senior members and executives from prominent non-profits including The National Campaign, Malaria No More, Invisible Children, and Comedy Gives Back.
This year, Entertaining Good is adding a Fashion Industry pre-party and social kick-off on the evening of October 9th. The pre-party will provide opportunities to forge new relationships and explore the creative potential of cause placement with executives and representatives from entertainment, fashion and social good marketing.
Leading up to the Entertaining Good event, CausePlacement.com will host a series of monthly webinars featuring tips and testimonials from industry experts, who will share their vision for artful and dynamic partnerships between social good and entertainment. Check CausePlacement.com for the most up to date news and webinar schedule.
Entertaining Good 2013 is sponsored by The NonProfit Times, Conscious Magazine and Sevenly.
For interview requests with speakers or organizers, please contact Philips McCarty or Erik Lokkesmoe at 917-310-4531 or info(at)causeplacement(dot)com.
About CausePlacement.com
CausePlacement.com equips entertainment entities, nonprofits and social entrepreneurs with new and creative strategies that can help to promote cause and social good missions in a saturated market. Through rich conversations, innovative content including online webinars, white papers and presentations, quarterly industry roundtables, and the annual Entertaining Good event, CausePlacement.com explores strategies that reach and galvanize new audiences through film, television, celebrity activation, gaming, publishing, music and theater. CausePlacement.com will also announce a new line of services for entertainment and nonprofit brands at this year's Entertaining Good event.
###