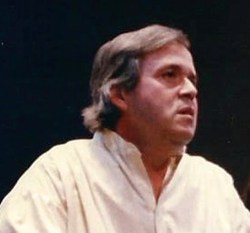 "We are anticipating a full house for each show and therefore urge those interested to buy tickets soon," stated Karole Lewis, founder of the Eastern Opera
Warren, NJ (PRWEB) August 06, 2013
Eastern Opera of New Jersey announces tickets are still available for their latest opera, Otello. A semi-staged show will be performed on August 11th at 3 pm at the Dolan Hall at the College of St. Elizabeth and August 16-18 the opera will be fully staged at the Brook Theater in Bound Brook, New Jersey; every performance will have costumes and an orchestra.
"As August is quickly approaching, we are excited to begin finalizing the performance for the upcoming show dates. Working with the Baroque Orchestra of New Jersey to perform Giuseppe Verdi's Shakespearean tragedy, Otello, has been very rewarding. We are anticipating a full house for each show and therefore urge those interested to buy tickets soon," stated Karole Lewis, founder of the Eastern Opera.
Otello will be directed by Karole Lewis, a seasoned veteran to the stage. Lewis has directed many productions in California, New York and most recently New Jersey. Conducting the orchestra for each performance will be Dr. Robert Butts, a professor at several universities including; Montclair State University, The College of Saint Elizabeth, Drew University and The New Jersey Council For the Humanities.
Giuseppe Verdi's Otello unites powerful drama and genius musical composures on center stage. Successful since its premiere in 1887, Verdi captures four scenes from Shakespeare's play Othello, reducing several characters, allowing the full development of three characters: Otello, Desdemona and Iago. A four act performance involving vindictive evil acts and sexual jealousy only to lead to murder and suicide, the world renowned play will let no audience member be disappointed.
For more information, please visit: http://www.easternopera.org/.
About Eastern Opera of New Jersey:
Eastern Opera Corp. is a nonprofit corporation organized and operated exclusively for charitable purposes. Specifically, Eastern Opera has been formed to encourage and instruct individuals for the purpose of improving and developing their capabilities, to educate the public on subjects useful to the individual and beneficial to the community, and to promote the arts and culture to the local communities. The first opera performance, Puccini's Madama Butterfly (May, 2013) was met with standing ovations. For more information, contact Lou Kersey at loukersey(at)easternopera(dot)org or visit http://www.easternopera.org.