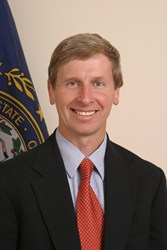 "I have watched Dyn grow over the years and blossom into one of the premier companies in the state of New Hampshire" John Lynch, new Dyn board member.
Manchester, NH (PRWEB) August 07, 2013
Dyn, the worldwide leader in Internet Infrastructure as a Service, announced today that The Honorable John Lynch, former four-term New Hampshire Governor, has been added to its board.
"John is one of the most thoughtful people I've ever met," said Dyn CEO Jeremy Hitchcock. "He has held the ultimate leadership position and managed to keep a steady hand during difficult times. He will bring a balance and wisdom to our board."
In January, Lynch left the New Hampshire Governor's office, a seat he held for a record-setting four terms. During his administration, Lynch was often ranked among the most liked governors in the country. He successfully led the state through one of the biggest economic recessions in American history.
Before entering public life, Lynch was the CEO of Knoll Inc., a national furniture manufacturer, where he transformed the company previously losing $50 million a year, to making profits of nearly $240 million yearly. Prior to that, he was the Director of Admissions at Harvard Business School.
Most recently Lynch served as the inaugural Perkins Bass Distinguished Visitor at the Nelson A. Rockefeller Center at Dartmouth College for the 2012-2013 academic year.
Lynch earned his Bachelor of Arts degree from the University of New Hampshire in 1974, a Master of Business Administration from Harvard Business School, and a Juris Doctor from Georgetown University Law Center.
"I have watched Dyn grow over the years and blossom into one of the premier companies in the state of New Hampshire," Lynch said. "I'm very excited to be joining its board. I believe my experience in both the private and public sector will add a unique voice to Dyn's talented Board of Directors."
Lynch completes a board that already includes:

Jeremy Hitchcock, Dyn CEO and co-founder
Jason Calacanis, founder and CEO of Mahalo, co-founder of ThisWeekIn, co-founder and former CEO of Weblogs, Inc. (acq. by AOL) and a respected angel investor
Ric Fulop, General Partner at North Bridge and co-founder of A123 Systems
Russ Pyle, General Partner at North Bridge
Scott Dussault, Executive Vice President and Chief Financial Officer of Demandware
Michael Boustridge, former President of BT Global Services
About DYN
Incorporated in 2001, Dyn is the worldwide Internet Infrastructure as a Service (IaaS) leader, powering Managed DNS, Traffic Management, Email Delivery & Email Reporting for more than four million enterprise, small business and personal users. With nearly 20 data centers around the world and industry-leading uptime for over 10 years, Dyn's commitment to customer relationships and engineering excellence shines every day. Uptime is the Bottom Line.
Dyn Media Contact
Adam Coughlin | acoughlin(at)dyn(dot)com | 603.714.5798