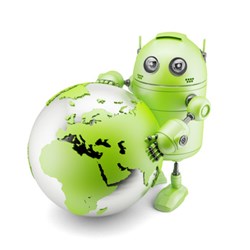 You can't just give up because 100% mobile privacy is impossible – you need to be fighting for that 80 or 90%.
Dallas, Texas (PRWEB) August 02, 2013
idcloak offers a new article, Private Browsing on Android, which outlines methods of identity protection on Android mobile devices. The article debunks the myth that identity protection is impossible on mobile devices, pointing out that it is largely because of users' lack of education that mobile data has such a poor protection record.
"It's the attitude towards Android devices that needs to change first," says the author of the article, Robin Welles. "Few people see their mobile device as deserving of the same security systems as their computers. The fact that we sync so much data between computers and mobiles, including our passwords, makes such an attitude dangerous."
The article nonetheless concedes that complete privacy on a mobile device is extremely hard to achieve as phones are easily tied to a user's identity by the call history, "Phone records are like fingerprints – we always call the same people, and that network is unique."
Welles highlights that users should not be disheartened, however; they can still protect themselves against the large majority of privacy threats, "You can't just give up because 100% mobile privacy is impossible – you need to be fighting for that 80 or 90%."
The second section of the article introduces the various parties that prey on exposed data, such as 'data-brokers' who sell call histories, governments and cybercriminals. Section III of the article, Proxy or VPN for Android Phones, goes on to introduce proxy technologies, explaining how they facilitate anonymous and secure browsing from a mobile device.
Part IV looks closely at cybercrime and what methods and services are available to Android users specifically seeking protection against identity theft. The article highlights the importance of such protection, showing how 80% of malware is designed to steal identity data, with only 20% seeking quick financial pay-off.
idcloak's Knowledge Center has published some 700 articles that advise users on security, anonymity and freedom online.
Go to http://www.idcloak.com for more.