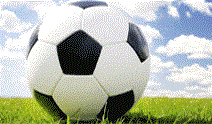 Hersey, MI (PRWEB) August 02, 2013
In an effort to provide residents of Eagle Village with tools and experiences to take with them when they leave, staff is always on the look-out for community activities, learning experiences and partnerships. Youth have visited the elderly in nursing homes and hospitals, regularly volunteer at the Cadillac Food Distribution, learned how to change the oil on a car at the Mecosta-Osceola Career Center, and spent a Saturday working at Camp Albright helping them get ready for the spring season. And that's just the beginning.
Eight youth at Eagle Village will take referee training for soccer through the American Youth Soccer Organization on August 3 on Eagle Village's campus. Donnie Dwyer, Regional Commissioner, Osceola County AYSO 872 is also a Quality Care Specialist at Eagle Village. He works with youth that are preparing to return to their communities, often to live their own so providing as many bits of training and experience possible while they are at Eagle Village is critical.
Dwyer commented, "AYSO volunteers make new friends, learn new skills and gain confidence. Having experience and a certification in-hand as they return to their home communities enriches their lives greatly; the possibilities for new connections and career paths begin to open up for them. I'm excited to see this first group of trainees go through the experience."
Once training is complete, the group will be volunteering at local soccer games and helping with events.
Eagle Village is a non-profit family treatment center providing Intervention Services and Camps, Residential Treatment, Foster Care and Adoption services for all counties in Michigan. If you know of a family in crisis that may benefit from these programs, contact Eagle Village at 231-832-2234 http://www.eaglevillage.org.