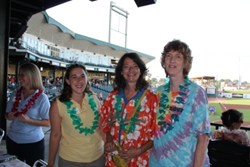 Greensboro, NC (PRWEB) August 03, 2013
Thursday, August 8th the Greensboro Grasshoppers players and coaches will literally give the shirts off their backs to support Raising Roofs, a partnership between Habitat Greensboro and the Greensboro Builders Association where homes are built from start to finish by members of the Greensboro Builders Association in just 5 days. Tropical Jersey night sponsor Billy Tesh/Pest Management Systems, Inc. will celebrate their 10th year of sponsoring the event.
The Tropical-theme Jerseys worn by the Greensboro Grasshopper players and coaches during the baseball game will be auctioned off in a silent auction during the game. Fans will be able to bid on the jersey of their favorite player prior to the close of the 7th inning. After the game, the winning bidders will be invited onto the field to receive the autographed jersey right off the player's back.
As an additional element of fun and fundraising, Julie Ann Tesh, with Pest Management Systems, Inc. has agreed to take a pie in the face, if $7,500 dollars is raised during the auction. If $10,000 is raised, Billy Tesh will step up to the plate and let Spaz and Guilford, of the Grasshoppers throw a pie in his face as well.
Through Raising Roofs, Habitat Greensboro and the Greensboro Builders Association have built 43 houses since 2003. Building 7 houses this year will make 50 Habitat homes built by the Greensboro Builders Association. Fifty Habitat homes means 50 families have the critical foundation that supports a family's health, education and financial well being. Quality, affordable homes rekindle hope, and roots families and communities. In homes where the walls are strong and the roof is secure, the family inside may focus more on thriving than surviving. Builders, subcontractors and suppliers generously donate time and materials to make Raising Roofs a huge success. This year, the goal is to build 7 houses in one amazing week. Just think, 7 houses means 7 more families will have a clean, safe place to call home and where where children can study, dream and reach their God-given potential.
About Pest Management Systems, Inc.
PMi, (Pest Management Systems, Inc.) is a locally owned and operated pest management company that has served homeowners and businesses throughout the Piedmont Triad area since 1984. The company offers full-service pest control for a multitude of pests including termites, mosquitoes, ants, roaches, spiders, mice and many more. In addition, PMi also offers moisture control and wildlife management services. Community driven, they give back to the community and support many service projects and charitable organizations, including Habitat for Humanity, the NC Cooperative Extension Service and the Natural Science Center. PMi also holds the designation as a QualityPro Member which places them among the top echelon of pest management companies in the nation.
About the Greensboro Builders Association
The Greensboro Builders Association is a trade association representing the building and home improvement industry. Founded in 1957, GBA focuses on education, networking, advocacy and community service; representing more than 165 licensed general contractors – builders and remodelers - along with 400 associate members comprised of industry suppliers, trade contractors and service providers.
About Habitat for Humanity of Greater Greensboro
Habitat Greensboro was formed in 1987 by four Christians in response to their Habitat experience in Peru. Twenty-five years later, Habitat Greensboro has expanded to almost 5,000 volunteers and 30 staff who build, renovate and provide critical repairs to 30 to 35 homes each year, serving 418 families in Greensboro and 400 internationally.
How the Habitat Model Works
Habitat for Humanity partners with families who have steady employment for one year, participate in a thorough credit analysis, attend educational classes on budgeting and home repair and contribute 300 hours of sweat equity. Homeowners purchase their homes from Habitat at no-profit and with interest-free financing. Habitat then serves as the mortgage lender providing life of the loan 0% financing and loan servicing to Habitat homeowners.
About Habitat for Humanity International
Habitat for Humanity International is a global nonprofit Christian housing organization that seeks to put God's love into action by bringing people together to build homes, communities and hope. Since 1976, Habitat has served more than 600,000 families by welcoming people of all races, religions and nationalities to construct, rehabilitate or preserve homes; by advocating for fair and just housing policies; and by providing training and access to resources to help families improve their shelter conditions.