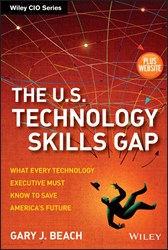 Hoboken, New Jersey (PRWEB) August 20, 2013
No nation's empire lasts forever. America's reign as global scientific leader is coming to an end by the end of this decade. The annual global competitiveness report from the respected World Economic Forum issued on September 2012, reports America is now the #7 nation in its ranking of 130 countries. Should Americans have a problem with this statistic? The answer is yes, when you consider that as recent as 2007 the U.S. was ranked #1 in the world. Gary Beach author of The U.S. Technology Skills Gap: What Every Technology Executive Must Know to Save America's Future (Wiley, $35.00, August 2013) deliberates how proficiency in math and science skills are the keys to the strength of America's economy, the employability of its workforce, and increasingly, the vulnerability of its national security in the 21st century.
Current news coverage that our kids are not doing well in science and math testing is not breaking news. What is breaking news is that these warnings started to appear nearly 60 years ago, from a unique four-part cover series in Life magazine entitled "Crisis In Education" to the 14-year continuous decline in SAT Math (and verbal) scores that commenced in 1963 to the results of the 1964 First International Math Study which said American 12th graders came in 13th out of 14 nations measured in the study.
Over the past decade, national education programs like the "No Child Left Behind" have reported that nearly 70 percent of America's eighth grade students are less than proficient (less than a "B" grade) in math and science. And over three in 10 fourth graders are functional illiterates ("D" or less) in reading. Moreover, results from respected global science and math assessment tests now regularly plot a trend line where the performance of American school children continues to fall further and further behind peers from other countries around the world, prompting McKinsey and Company to say America's widening education gap is equivalent to a "permanent national recession."
Gary Beach says, "There are just too many cooks in the kitchen when it comes to improving American education - parents, business leaders, politicians, teachers, and teacher unions etc., all of them with a vested interest in protecting their turf."
The U.S. Technology Skills Gap is all about how America needs to find a way to fix its public education woes or they will become the England of the 21st century. America's era of consequence, after 60 years of not listening to warnings, is upon us.
About the Author
Gary Beach (Boston, MA) brings more than 30 years of information technology publishing experience to his role as publisher emeritus of IDG's CIO magazine. Beach is a highly regarded spokesperson throughout the United States and the global technology industry and he has testified on key issues facing the IT industry before the U.S. House and Senate. From the Oval Office of the White House in 1995, Beach launched an IT non-profit organization called Tech Corps that continues to challenge IT professionals to assist the education tech issues of K-12 schools in America. As an expert on the role of the CIO, IT best practices and future IT predictions, he is frequently quoted by major media organizations such as CNN, CNBC, USA Today, The New York Times, The San Francisco Chronicle and Business Week. From 1998 - 2002 he contributed commentaries on key tech issues to NPR's "All Things Considered" program.
The U.S. Technology Skills Gap
What Every Technology Executive Must Know to Save America's Future
Published by John Wiley & Sons, Inc.
Publication date: August 5, 2013
$35.00; Hardcover; ISBN: 978-1-118-47799-1