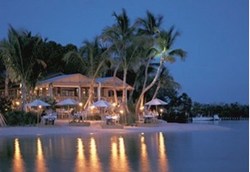 Little Torch Key, FL (PRWEB) August 02, 2013
Haute Hotel Network is pleased to present Little Palm Island Resort & Spa as an exclusive Haute Hotel member.
Haute Hotel Network relies on very specific criteria when choosing a new hotel to be featured; the best hotels in terms of uniqueness and stunning landscapes may be considered, but only those who demonstrate these qualities while exhibiting top-tier luxury accommodations, amenities and exceptional service will be presented with the honor.
As one of the most exclusive and captivating private islands in the world, Little Palm Island Resort & Spa takes advantage of its location—a 5-acre private island 45 minutes north of Key West—to promote an "unplugged" atmosphere. Its award winning staff and exquisite accommodations have proven to exceed all expectations time and time again. Superior qualities, along with a heritage of splendid service and attention to detail, have earned it a spot atop the list of America's Best Beach Hotels according to Travel + Leisure. Haute Hotel Network is honored to have Little Palm Island Resort & Spa as a member.
About Haute Hotel Network
The Haute Hotel Network, a media partner of Haute Living, is a prominent, invitation-only membership circle featuring a limited number of hotels and resorts from each of the top domestic and international markets. Haute Living Network connects affluent audiences with the luxury lodging and hospitality establishments predetermined to be the finest in their respective region. Invitations to the Haute Hotel Network are only extended to hotels and resorts with exceptional amenities with a proven service record that meet only the highest of standards. To learn more about the Haute Hotel Network or view any of our amazing hotel properties, visit our website: http://www.hautehotel.com/.
About Little Palm Island Resort & Spa
Little Palm Island Resort & Spa is consistently mentioned as one of the top resorts in the world. The reason lies in the resort's 'Get Lost' mantra. Unlike other resorts, Little Palm Island Resort & Spa embraces its secluded location in order to help guests leave the stress of the 'wired' world behind. Wi-Fi is available in your suite, and a television is available in the Great Room Library, but phones shouldn't be used in the public areas. Guests are very protective of their "escape!"
The 30 luxury suites are in thatched roof bungalows and are surrounded by views of stunning azure water and thick tropical foliage. The solitude of the island allows guests to experience a sense of serenity that feels surreal. With classic décor reminiscent of the West Indies or South Pacific, the hotel exudes a peaceful calm that can usually be found in only very remote locations. Just a 15-minute motor yacht transfer from the Florida Keys "mainland," the resort is close enough for a quick retreat or an extended stay. Over the years, the resort has received many awards but is proud to boast that it has made Condé Nast's "Gold List" of the Best Hotels in the World for more than 10 years in a row.
Little Palm Island Resort & Spa is located at:
28500 Overseas Highway, Little Torch Key, FL 33042
To learn more: visit Little Palm Island Resort & Spa.