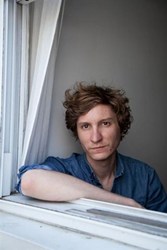 Santa Fe, NM (PRWEB) August 05, 2013
Michael Tyburski ('06), alumnus of Santa Fe University of Art and Design's Film School (then the College of Santa Fe's Moving Image Arts department) was recently named one of the "25 New Faces of Independent Film" in a July article by Filmmaker Magazine.
Tyburski has been on a fast train to success, screening his award-winning films at festivals worldwide and recently attracting attention for his cinematography on William and the Windmill, which won the 2013 SXSW Grand Jury Documentary prize. The film's director, Ben Nabors, is a producing partner and close collaborator of Tyburski.
The rising filmmaker has also garnered praise for a short film he co-wrote and directed called Palimpsest, which he describes as a "passion project" he developed from concept to completion. The film's lead actor, Joel Nagle, won a Special Jury Award at the 2013 Sundance Film Festival for his performance.
"For as long as I ever wanted to make movies, getting into Sundance has always been a dream and extremely high goal of mine," says Tyburski. "Finally getting there felt like some sort of personal affirmation that I had made it as a filmmaker in a way. Now my job is to live up to that status with my future projects that I take on."
Since the film's success at Sundance, Tyburski and Nabors have begun translating the short into a feature film, with the goal of starting production sometime next year. This fall, the filmmaking duo will premiere Brooklyn Farmer, a 30-minute documentary about a group of urban farmers in New York City that set out to build the largest rooftop farm in the world. Tyburski directed and Nabors produced the film.
In addition to features and shorts, Tyburski has directed commercials for Betty Crocker, Microsoft, Verizon, Four Seasons Hotels and Resorts, General Electric, and PBS, among others, as well as an upcoming campaign for Purina.
"Whether it's narrative filmmaking, documentary, or commercial work, it's all storytelling to me," says Tyburski. "I try to be conscious of projects I take on because I want to focus on work that's fulfilling to me. Whether a project has commercial branding or not, it's important that it's rooted in story."
Tyburski says he learned the storytelling component of filmmaking during his time studying at Santa Fe. He adds that while his passion lies with narrative filmmaking, he tries to balance his scope of work, and often applies the techniques of documentary filmmaking to narrative works.
"I believe strongly in having a film education rather than just jumping in and trying to make something," he says. "It's important to know the history of cinema and what other filmmakers are doing around the world. I don't think I would be as good a filmmaker today if I didn't have that understanding, or the experiences I had studying at Santa Fe."
A native of northern Vermont, Tyburski currently lives in Brooklyn, N.Y.
For more about Tyburski's work, visit http://www.michaeltyburski.com.
About The Film School at SFUAD:
The Film School at Santa Fe University of Art and Design offers a relevant, hands-on BFA curriculum that emphasizes production skills, business savvy, and storytelling across multiple film and video platforms. Films such as True Grit and Cowboys & Aliens and TV dramas such as Longmire have been shot at the university's Garson Studios, where students have the opportunity to intern on professional productions on two motion picture soundstages—at 14,000 and 7,500 square feet. The Film School also has its own 2,200-square-foot soundstage and green screen, as well as a professional set from The Sunset Limited. The Screen, a popular destination within the Garson Communications Center, shows some of the greatest works of world cinema daily for students and the public.
About Santa Fe University of Art and Design:
Santa Fe University of Art and Design is an accredited institution located in Santa Fe, New Mexico, one of the world's leading centers for art and design. The university offers degrees in arts management, contemporary music, creative writing, digital arts, graphic design, film, performing arts, photography and studio art. Faculty members are practicing artists who teach students in small groups, following a unique interdisciplinary curriculum that combines hands-on experience with core theory and prepares graduates to become well-rounded, creative, problem-solving professionals. As a Laureate International Universities Center of Excellence in Art, Architecture and Design, the university boasts an international student body and opportunities to study abroad, encouraging students to develop a global perspective on the arts. Santa Fe University of Art and Design is accredited by The Higher Learning Commission and a member of the North Central Association, http://www.ncahlc.org.