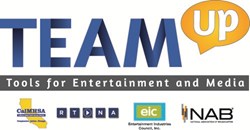 By bringing together broadcast, cable, entertainment and digital media we can let the sun shine on mental health and encourage our nation's youth to seek help or support those in need to build healthier communities. -- NAB President Gordon Smith
Washington, DC (PRWEB) August 01, 2013
The Entertainment Industries Council, Inc. (EIC) is proud to support the National Association of Broadcasters (NAB) mental health awareness campaign, OK2TALK. OK2TALK officially launched on Capitol Hill with English and Spanish language television and radio public service announcements and a unique networking site targeting teens and young adults ages 13 to 24 (http://www.ok2talk.org). The goal of the national campaign is to promote widespread awareness and increasing the national conversation about mental health. EIC's TEAM Up (Tools for Entertainment and Media) initiative, of which NAB is also a partner, provides additional resources for journalists and entertainment writers that are in alignment with the messages of the OK2TALK campaign.
National leaders including Gordon Smith, President, National Association of Broadcasters; Kathleen Sebelius, United States Secretary of Health and Human Services; Senator Debbie Stabenow (D-MI); Representative Grace Napolitano (D-CA); Representative Tim Murphy (R-PA) attended and spoke at the launch event spotlighting the importance of mental health.
The primary messaging of the campaign is:
1. It's OK to talk about mental health.
2. Help is available and effective.
3. Get help if you need it.
4. If you know someone who is struggling, help them get the treatment they need.
"OK2TALK focuses on these four simple, cohesive, and potentially life saving messages," said NAB President Gordon Smith. "By bringing together broadcast, cable, entertainment and digital media, we can let the sun shine on mental health and encourage our nation's youth to seek help or support those in need to build healthier communities."
Through TEAM Up, EIC engaged high school and college students to craft targeted messages for their peer groups to be used on the OK2TALK, powered through microblogging platform and social networking website, Tumblr. "Combined with newsroom trainings, forums and entertainment creators' briefings, plus the unique push to involve tweens and teens in social media, this media mix should elevate the key messages about the campaign. The OK2TALK PSA campaign provides an opportunity for all media to play an unprecedented role to reaching young people and opening up new dialogue about mental health," said Brian Dyak, President and CEO, EIC.
The OK2TALK campaign, in conjunction with EIC and the TEAM Up initiative, aspires to break down the barriers faced by those with mental health issues by promoting the idea that it is okay to talk about mental health and subsequently to seek help. Learn more at http://www.ok2talk.org or by following us on Twitter at @MediaTEAMUp.
Access resources for writers and journalists by logging on to http://www.eiconline.org/teamup.
About Entertainment Industries Council
EIC is a non-profit organization founded in 1983 by leaders within the entertainment industry to bring their power and influence to bear on communication about health and social issues. This mission relies on providing resource information to the creative community and culminates in recognition of the industry through the national television special PRISM Showcase which addresses accurate portrayals of substance use issues and mental health concerns. The organization also produces the S.E.T Awards, honoring positive and non-stereotypical portrayals of science, engineering and technology. For a complete list of health and social issues addressed by EIC and local projects please visit First Draft and EIC's website.
EIC's web site is http://www.eiconline.org.
About TEAM Up
EIC's TEAM Up program is funded by the voter-approved Mental Health Services Act (Prop. 63). It is one of several Prevention and Early Intervention Initiatives implemented by the California Mental Health Services Authority (CalMHSA), an organization of county governments working together to improve mental health outcomes for individuals, families and communities. CalMHSA operates services and education programs on a statewide, regional and local basis. TEAM Up resources are available in English and Spanish online. TEAM Up also includes extensive Twitter outreach to further drive the conversation, highlighting news stories that accurately depict mental health, sharing resources and events, and offering guidance on mental health storytelling. Follow @MediaTEAMUp.
About National Association of Broadcasters
The National Association of Broadcasters is the premier advocacy association for America's broadcasters. NAB advances radio and television interests in legislative, regulatory and public affairs. Through advocacy, education and innovation, NAB enables broadcasters to best serve their communities, strengthen their businesses and seize new opportunities in the digital age. Learn more at http://www.nab.org.