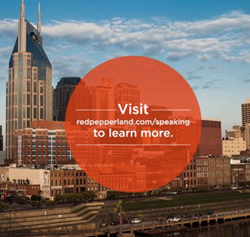 Nashville, Tenn. (PRWEB) August 02, 2013
Atlanta ad agency, redpepper, will be sending founder Tim McMullen on a speaking tour around the United States. McMullen will be speaking on strategies for creating a more flexible marketing strategy and also prove that a more inventive and open approach to marketing leaves room for innovation which ultimately leads to success.
The tour will visit four cities—Houston, Columbus, Birmingham, and Atlanta—and ultimately culminate in a webinar. This will be broadcasted from the Nashville ad agency for those who could not attend the events at one of the four cities on the speaking tour.
Marketing keynote speaker Tim McMullen is the Co-Founder and Executive Creative Director of redpepper and has built the company on the core belief that a culture of growth and creativity is central to who they are and essential to their success. He was previously president of the Nashville chapter of the American Advertising Federation and has spoken nationally on company culture and integrated marketing.
All of the tour stops will be American Marketing Association (AMA) events. The AMA was established in 1937 by visionaries in marketing and academia and has grown to be one of the largest marketing associations in the world, with over 30,000 members who work, teach and study in the field of marketing across the globe.
Ad agency by day, invention lab by night, redpepper is an award-winning integrated marketing agency with offices in Atlanta and Nashville. They have achieved a 12-year run of growth in clients, revenues, and profits, and have been recognized as one of the 5000 fastest growing companies in the country by Inc. Magazine for five years running. Partners Tim McMullen and Dave McMullen achieved the equivalent of a marketing double play with back-to-back Agency Marketer of the Year Awards (Atlanta 2009 and Nashville 2010). redpepper's creative work has been recognized with more than three dozen national and regional industry awards. The agency has also received global coverage for their marketing innovation in a variety of outlets from CNN to TechCrunch & Slate.