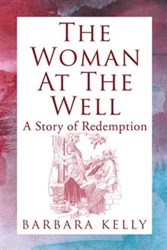 "There is nothing in life that God can't heal," says Kelly. "Through God and redemption, anyone can be forgiven – just like the woman at the well."
Reno, Nev. (PRWEB) August 27, 2013
What would it be like to have known Jesus and to have witnessed his miracles firsthand? Would it make you a believer?
In "The Woman at the Well", author Barbara Kelly delivers a spiritual guide in understanding how God works throughout lives. Drawing the story of John chapter 4 and the encounter the woman at the well had with Jesus, this book helps the reader in reliving this biblical event.
A useful tool for Christians and more, this book addresses the trials and tragedies of life, in addition to showing ways Jesus can redeem. Sprinkling lessons learned from her own experience with finding God, Kelly also shares her 30-year journey to help readers benefit from her experiences and learn to move into a better frame of mind.
"This book is a support tool to help the reader be set free," says Kelly. "Readers will learn to let go from those things in the past and move forward into the life that the Lord has called them to."
Appropriate for youth to adults, "Woman at the Well" preaches self-esteem, wisdom to move on and the love God can give.
"There is nothing in life that God can't heal," says Kelly. "Through God and redemption, anyone can be forgiven – just like the woman at the well."
Woman at the Well: A story of redemption
By Barbara Kelly
ISBN: 978-1-4497-8441-0
Pages: 108
Available at http://www.westbowpress.com, http://www.amazon.com and http://www.barnesandnoble.com.
About the author
Barbara Kelly has actively participated in several different ministries, including teaching Sunday school for all different ages during the course of her 32 years of service to the Lord. She has written freelance articles and a blog. Kelly was born in Reno and currently lives there now. She has two grown children and seven grandchildren.
# # #