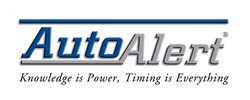 Irvine, CA (PRWEB) August 05, 2013
As automakers offer free maintenance services and loyalty rewards to retain customers, dealerships such as Boardwalk Auto Mall continue to hone retention through regular contact with existing customers. This strategy offers their customers unparalleled reasons for remaining the dealership's loyal customers.
"Automaker programs are excellent ways to build loyalty, however Boardwalk's consistent customer follow up using AutoAlert® helps us to be first presenting customers the opportunity to buy or lease here again so we keep them in the Boardwalk family," notes Mr. Gwen Denard, Client Portfolio Manager for the dealership.
Using the AutoAlert customer database analysis and selling strategies system, Denard achieves an 80% appointment show rate and a 50% closing rate.
AutoAlert mines the dealership customer database to search for customers whose vehicle ownership situation is at the right convergence of equity, mileage, factory incentives, payoff and current finance/lease rates. The correct mix is most successful in moving customers into new models for about the same monthly payments as the current vehicle. AutoAlert® displays prospect opportunities into different categories, and is updated daily.
The phone sales strategies used with AutoAlert data analysis create a unique pattern-interrupt conversation with customers that breaks the mold of how consumers generally perceive sales calls from auto dealerships, Denard says.
Two important reasons make these outbound sales calls so potentially successful for most any dealership:

Existing customers have an established relationship with the dealership. As such they are more inclined to be receptive to calls and listen to the offer being made – if it is relative to them and offered at the right time and makes sense.
Since the AutoAlert analysis of the database is well detailed – who the customer is, what they currently drive, the status of their vehicle ownership, its service history and more – the outreach is customized plus different scripts are provided as a guide during the call.
"The beauty of this program lies in its ability to cater to users wanting to access very detailed information," Denard says. "For those looking for specifics, like customers owning or leasing three-year-old Altima's that we'd like to take in on trade, for instance, AutoAlert makes the search task a breeze."
Dealers who use AutoAlert to boost sales to existing customers discover how powerful its ability to change the car sales game: from one of calling customers to sell them again and instead offering the customer solutions to their vehicle concerns. Such possibilities include:
Buy from them – their existing vehicle. The dealership has buyers for that quality trade – would they sell it if the dealership could put them into a newer model for about the current monthly payment?
Avoid a costly mistake. The customer's record shows the leased vehicle mileage is potentially going to exceed their contract limit, costing X dollars in penalties. The dealership can eliminate those expenses and move the customer into a newer model for a similar monthly payment.
Offer assistance. Their factory warranty is expiring soon. The dealership can offer a vehicle service contract with additional peace of mind for many more years to come.
Save them frustration. Records show the customer's aging vehicle has become increasingly costly to maintain properly. The dealership has a fine selection of certified preowned units the customer might want to consider. These include late model vehicles complete with lower miles and the balance of factory warranties or with vehicle service contacts included.
Solve a life change dilemma. Call customers to help them out of a jam created by a change in their situation -- a new family now requires a larger vehicle; longer commute demands greater fuel efficiency; or an economic change demands lower payments.
"AutoAlert's always-available online and live training make learning this technology and using it well quite easy," Denard said. "In fact, my new assistant Christine was making AutoAlert calls and set up three appointments her first day here!"
More than 2,000 automobile dealerships and more than 25,000 individual users have benefited from added sales, profits, commissions and individualized support and training that come with each AutoAlert installation. Founded in 2002, AutoAlert, Inc. is the first and only company of its kind to offer dealership and enterprise wide business intelligence software, support and training.
For more information, contact Nathan Warner, Director of Marketing, 949-398-7008 or email Nathan(at)autoalert(dot)com or visit AutoAlert online.