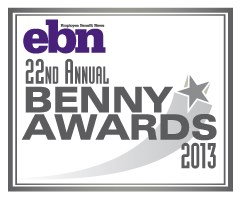 The editors of Employee Benefit News have selected Jennifer Weinstein as the 2013 Benefits Professional of the Year.
New York, NY (PRWEB) August 02, 2013
The editors of Employee Benefit News have selected Jennifer Weinstein, benefits, compensation & HRIS director with Mission Viejo, Calif.-based Ensign Services, as the 2013 Benefits Professional of the Year.
EBN also announced the winners of this year's other "Benny" award winners, as well as the winners of a separate competition, The i-COMM Awards, which recognize the best in internal benefits communication.
Benny and i-COMM Award winners will be profiled online at EBN.benefitnews.com and in the September issue of Employee Benefit News. The accomplishments of the Benny and i-COMM Award winners also will be celebrated at the annual Benefits Forum & Expo (http://bit.ly/11gtLOs), which will be held Sept. 22-24 at the Hyatt Regency in New Orleans.
Weinstein, this year's Benefits Professional of the Year, was recognized for her leadership at Ensign Services, where she led her team in creating an award-winning wellness program, adding 13 new benefit offerings, rolling out a benefits call center, implementing an online benefits enrollment system, introducing a total compensation statement tool, changing medical plan design offerings, reducing the number of medical rate structures from 68 to eight, and increasing participation in the company's 401(k) plan. Ensign Services is part of the Ensign Group, a network of operating companies that offers a wide range of skilled nursing, assisted living and other rehabilitative and healthcare services. Ensign Services provides legal, compliance, IT, construction, human resources, and back-office support to Ensign Group affiliates.
"At a time when many employers are retrenching their benefit programs, Jennifer has led an expansion in offerings, while improving employee satisfaction and engagement," said David Albertson, editorial director of SourceMedia's Healthcare Group.
The annual Benny Awards, now in their 22nd year, recognize excellence in the employee benefits/human resources field. In addition to honoring a Benefits Professional of the Year, who has excelled in multiple benefit categories, there are three other awards: leadership in health benefits, leadership in retirement benefits, and a Judges' Choice award honoring other achievements deserving special recognition.
This year, Chad Ryan, director of retirement plans with PepsiCo, was recognized for leadership in the retirement category; Dianne Howard, director, risk & benefits management, School District of Palm Beach County, Fla., was honored for leadership in health care; and Elaine Beddome, vice president, global benefits and employee mobility with Hewlett-Packard, was named the recipient of the Judges' Choice award.
Editors based their selections on factors such as contributions to employee benefit engagement, participation, and utilization; contributions to employee productivity; organization cost savings; or other operational goals.
The i-COMMs recognize the best in employee communication in four categories. The 2013 i-COMM Award winners are:

The Iowa Department of Administrative Services, which greatly increased the impact of its newsletter by leveraging email marketing software, for Best Print or Online Employee Newsletter.
Limited Stores, which had several digital achievements, such as a 50% increase in blog readership, for Best Use of Social Media.
EMC, which met enrollment and employee engagement goals through benefit fairs, for Best Overall Communications Campaign.
Toshiba America Medical Systems, which created enhanced digital and content offerings that allowed workers to easily and quickly find answers to their most common benefit questions, for Best Employee Intranet/Employee Portal Design & Usability.
About Employee Benefit News
Employee Benefit News (EBN) is for senior-level benefits decision makers providing in-depth analysis on benefit industry trends and innovative solutions. Our magazine and online and digital resources educate benefit plan sponsors on new ways to purchase, administer, and benchmark their benefit programs while adapting to rising costs and wider ranges of policy offerings. In addition to EBN, SourceMedia's Healthcare Group includes Employee Benefit Adviser; Health Data Management; HIX: The Health Insurance Exchange; Insurance Networking News; and a group of related industry events.
About SourceMedia
SourceMedia, an Investcorp company, is a diversified business-to-business media company serving the financial industry and the related fields of professional services and technology. SourceMedia offers its clients and subscribers professional information services – both print and digital – industry-standard data applications, in-depth seminars and conferences, and specialized marketing services.