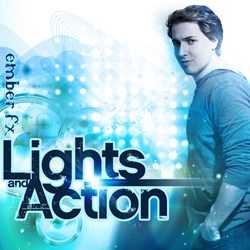 "Ember Fx possesses the most important element, which is fantastic song writing. Lights & Action is a perfect example of a pop smash and a powerful artist that will leave a mark on pop culture." -- Jack Joseph Puig
Los Angeles, California (PRWEB) August 06, 2013
Lights and Action is an album you can judge by its cover.
The sophomore release by Ember Fx lives up to its name – it is sonically bigger and more complex than its 2012 predecessor Across the Land, which frontman Michael Berns describes as "like a minimalist painting."
If that's the case, Lights and Action is a Jackson Pollack – exploding with color, vivid and alive with layers of sound, rich with melodic ideas.
The songs on Lights and Action grew out of ideas Michael got while jamming with Ember Fx guitarist Eugene Huang before and after live shows they did almost two years ago. "The new record is much more electronic than what I did with Across the Land," Michael says. "We had lots of organic sounds on that record, like violins and acoustic guitar, but for Lights and Action we stayed pretty much in the synth zone, with much bigger drums sounds as well."
Where Across the Land was primarily a solo effort, Lights and Action was much more a team effort from start to finish. Michael co-wrote every track on the record with Ember Fx keyboardist Bryan Velasco, and he points to that collaboration as a key difference maker in taking Lights and Action to a completely different place.
"We started the process by listening to more than 300 song clips or ideas, just simple tracks I'd done with the voice recorder on my iPhone," Michael says. "I haven't shared those with anyone in the past, because they are just so personal – but for this record I really needed the band to connect with those original ideas, really feel them, so they could create something that captures that emotion perfectly."
Some of the tracks on Lights and Action were mixed by GRAMMY® Award winning engineers Jack Joseph Puig, (Lady Gaga, John Mayer, Owl City) and Joe Zook (Katy Perry, One Republic, Mika, Kelly Clarkson).
Two singles from the album, "What Aren't We Going to Do?" and "Good Holiday" are available now on iTunes. Lights and Action bursts onto the scene on August 20 via all major digital retailers.