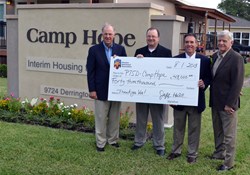 Today, a $43,000 check was presented to the PTSD Foundation and Camp Hope.
Houston, TX (PRWEB) August 01, 2013
With both a 1K and 5K route, there was a route for the serious runner as well as the casual walker. All proceeds for this event benefit Camp Hope and the Post-Traumatic Stress Foundation of America in honor of Clay Hunt, son of HAA board member and past president Stacy Hunt, Greystar, and all affected service men and women.
Today, a $43,000 check was presented to the PTSD Foundation and Camp Hope. Camp Hope is an interim housing outreach for veterans and their families who are suffering with the unseen wounds of war. Since its opening in spring of 2012, many wounded warriors and their family members have received assistance in rebuilding their lives as they establish a "new normal". Before graduating from Camp Hope, jobs and permanent housing have been established and these families are now in turn reaching out and assisting other veterans as part of their continuing recovery.
More than 22 veterans take their own lives in America every single day, that is nearly one every hour of every day. New studies show one of every three of our nation's post 9-11 veterans have considered suicide. The CDC lists this as a national pandemic. The numbers are staggering and demand more than lip service.
In response to this overwhelming national tsunami of darkness, the PTSD Foundation has risen as a beacon of light and hope. The PTSD Foundation, in addition to Camp Hope, conducts weekly support groups and peer mentoring throughout the Houston area, and is expanding into other areas of the country. This is a grass-roots effort, completely funded by private donations and organizations such as the Houston Apartment Association.
About The PTSD Foundation of America
The PTSD Foundation of America is HQ in Houston, Texas and is a non-profit organization under IRS Code Section 501 c (3). PTSD Foundation brings healing to our military and their families through pastoral counseling, and peer mentoring, on both an individual basis, and group settings.
For more information on the Foundation and Camp Hope, please visit the website http://www.ptsdusa.org.
For interviews or further detail, contact David Maulsby (Executive Director) at 281.664.7948.
For more information on the Houston Apartment Association, visit them online at http://www.haaonline.org, or contact Susan Hinckley (Vice-President) at 713.595.0313, or Aimee Arrington (Director of Community Engagement and Media) at 713-595-0302.
Camp Hope | A PTSD Foundation of America Outreach © a tax-exempt 501(C)(3) nonprofit organization