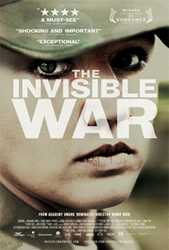 I knew we needed to get involved to build awareness of this issue.
Costa Mesa, California (PRWEB) August 01, 2013
Working Wardrobes, a nonprofit organization dedicated to providing comprehensive career readiness and life skills services to people overcoming difficult challenges, today announced it is hosting a screening of the Academy Award® Best Documentary Nominee, The Invisible War, and an expert panel discussion this month to help shed light on the staggering amount of violent sex crimes being committed among U.S. military personnel today.
The event, scheduled for August 15, 2013 at the Working Wardrobes Career Center in Costa Mesa, California, will feature the groundbreaking investigative documentary about the epidemic of rape within the U.S. Armed Forces, as well as a panel discussion by area experts who specialize in veterans' issues, law, psychiatry and social services.
The evening kicks off with commentary from Lindsey Sin, Deputy Secretary for Women Veterans Affairs at the California Department of Veterans Affairs and a recognized authority on women's issues in the military, including Post Traumatic Stress Disorder (PTSD) and sexual assault and harassment, among others.
Sin will also take part in the panel discussion, with experts that include Lt. Col. Tracy Abrams of Kaiser Permanente Orange County; Major General Megan Tatu of the 79th Sustainment Support Command in Los Alamitos; Patricia Lester M.D. of the Nathanson Family Resilience Center; Crescent Terry a former homeless U.S. Army veteran and survivor of military sexual trauma; and Honorable Judge Wendy Lindley of the Orange County Superior Court/Veterans Court. The panel will be moderated by NBC4 Southern California's Vikki Vargas, Orange County general assignment reporter.
For the past 23 years, Working Wardrobes has provided career readiness and life skills services to men, women, young adults and veterans overcoming difficult challenges, including homelessness, catastrophic illness, traumatic financial losses, domestic violence, and alcohol and substance abuse.
Last year, with its ongoing commitment to veterans, Working Wardrobes launched VetNet, a safety net for veterans that provides career training and employment services for vets returning from war and struggling to overcome challenges such as PTSD, domestic violence, and addiction and substance abuse, which have led to drastically high unemployment and underemployment rates among veterans here in Orange County and across the nation.
The event is designed to shed light on the more obscure but no-less-tragic issue facing military personnel today. The Department of Defense estimates there were a staggering 22,800 violent sex crimes in the military in 2011 and that approximately 20% of all active-duty female soldiers are sexually assaulted*.
These statistics are what prompted Jerri Rosen, founder and CEO of Working Wardrobes, to host the screening and to invite area experts to collaborate on possible solutions to help soldiers who are not only struggling to overcome employment challenges, but who may very well be suffering from severe emotional trauma associated with violent sexual crimes.
"I knew we needed to get involved," said Rosen. "The event is designed to build awareness of this issue, determine viable action steps and increase our ability to serve veterans in a more informed and powerful way."
Vikki Vargas, moderator of the upcoming Working Wardrobes expert panel discussion, has been part of the NBC4 news team for more than 30 years. Based in Orange County, she is the Bureau Chief responsible for gathering and covering the region's major news stories and has won numerous honors and awards for both her professional achievements and community involvement.
Vargas is moderating the panel and will engage the panelists in a meaningful discussion about the issue.
Working Wardrobes' The Invisible War documentary screening and expert panel discussion is set for August 15th at the Working Wardrobes Career Center located at 3030 Pullman Street, Suite A in Costa Mesa. A reception begins at 6:30 p.m., with the documentary screening beginning at 7:00 p.m. The expert panel discussion follows the screening. Cost is $20 per person.
For more information about the event, please contact Desirae Cardiel by email at desiraec(at)workingwardrobes(dot)org or by phone at (714) 210-2460. For more information about the veterans services offered by Working Wardrobes, please visit http://www.workingwardrobes.org/job-seekers/csvetnet/.
About Working Wardrobes
Working Wardrobes is an independent nonprofit organization that strives to empower men, women, veterans, and young adults overcoming difficult challenges to confidently enter the workforce and achieve self-sufficiency. The organization provides career training, job placement assistance, and professional wardrobe services in an environment of dignity and respect.
Since 1990, Working Wardrobes has grown to serve over 60,000 men, women, veterans, and young adults overcoming difficult challenges including alcohol and substance abuse, prison re-entry, homelessness, catastrophic illness, and traumatic financial losses. It assists CalWorks recipients, clients of social service agencies, and individuals in 60 shelters or programs in Orange County, Los Angeles, San Diego, and the Inland Empire. The Working Wardrobes social enterprise model serves as an example of self-sustainability to organizations nationwide.
Working Wardrobes' current board of directors includes (in alphabetical order by last name): Ann Cairns, Cox Communications; Jeff Coats, Autobytel, Inc.; Anna Conrekas, US Bank; Vicki Dallas, Buchalter Nemer; Mandi Dossin, DGWB; Chris Dyer, People G2; Harry Humphries, GSGI, Inc.; Stephen Kelley, Health Essentials; Darryl Martin, Sentinel Offender Systems, LLC; Emily Reynolds, ADP; Jerri Rosen, CEO, Working Wardrobes; Kim Shepherd, Decision Toolbox; Linda Smith, Union Bank; Sandy Theriault, UPS; Patrick Tillich, Park West Landscape; and Mike N. Vo, Miss Professional Nail.
*http://www.sapr.mil/public/docs/reports/Department_of_Defense_Fiscal_Year_2011_Annual_Report_on_Sexual_Assault_in_the_Military.pdf
*Also see: http://www.nytimes.com/2013/06/12/us/politics/proposed-measure-to-curb-sexual-assault-in-military-to-be-cut-from-bill.html