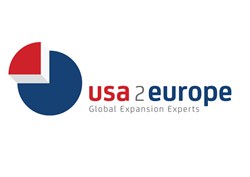 Workshops will be held throughout Aug. 2013. To book today, just email workshop@usa2europe.com
San Diego, CA (PRWEB) August 01, 2013
USA2Europe, a firm that specializes in helping businesses to expand across Europe and Asia and supports, through partners, enterprise operations in 35+ countries, announced today a special offer to Silicon Valley start-ups and other emerging technology companies. The firm's industry experts—all originally from U.S. technology start-ups—will hold by phone private and confidential (under NDA) consultations focused on answering questions and providing feedback, recommendations and ideas for companies looking to test new markets, and expand worldwide. The U.K.-based firm, with additional offices and staff in Belgium, Ireland, Singapore, and the U.S., supports over 50 clients and 200 business entities in 35+ countries.
"We are offering the international expansion-focused start-up workshop because we often hear from our clients—primarily U.S. tech companies—that they not only need back-office support for operations overseas but guidance through critical launch phases including company formation and international payroll set up, as well as Mergers & Acquisitions and IPO," said USA2Europe CEO, Andy Hooper.
USA2Europe team members are CPA qualified or equivalent, 15+ years working mainly for U.S. technology companies. The enterprise outsource firm has seen many American start-ups through key phases. Company success stories include: Netezza (acquired by IBM), EqualLogic (acquired by Dell), BladeLogic (acquired by BMC) and Crossbeam (acquired by BlueCoat).
"Our entire team comes from U.S.-headquartered tech companies and we've created a niche as we know and can uniquely serve the specific needs of start-ups in this space. While we help businesses to successfully expand worldwide, our collaboration with companies is always through the lenses of what a start-up needs to accomplish as they look to grow," added Hooper.
Prospects can contact USA2Europe directly to schedule their private phone consultation with one of the team's industry experts and start-up veterans who can provide critical feedback, advice and ideas for up to an hour in response to 'your global expansion plans' – all at no charge. Workshops will be held throughout August 2013. To book today, just email workshop(at)usa2europe(dot)com.
About USA2Europe
Founded in 2004, USA2Europe specializes in back-office outsourcing support including Enterprise Payroll, Finance, HR, Legal and Compliance. The firm also has extensive expertise in seeing businesses, particularly technology start-ups, through Company Formations, IPOs and M&A activities. USA2Europe has offices and on-the-ground support in countries including Belgium, Ireland, Singapore, United Kingdom and the United States. Through industry partnerships in other key markets, the firm has expanded its reach to support 200+ business entities in over 35 countries.