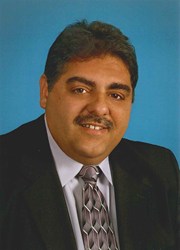 Brooklyn, NY (PRWEB) August 02, 2013
Educational Housing Services, Inc. (EHS), the leading provider of private, off-campus student housing in New York City, today announced the appointment of Fred Neglia as the first to hold the new role of Director of Life Safety and Security. Mr. Neglia brings more than 30 years of experience to the position, including ten years at Nassau Country Community College where he has been Assistant Chief/Director of Public Safety since 2006, as well as 20 years working in the New York City Police Department as both a Detective Investigator and Police Officer.
"EHS has always made providing exceptional security for its residents a top priority. We are proud to take this service to the ultimate level by creating this new role with the direction of a security industry leader as experienced as Mr. Neglia," says Christy Gaiti-Chatfield, EHS Senior Vice President of Student Life. "Mr. Neglia is responsible for the effective and sensitive administration of security, accident prevention, crisis management, and fire and life safety enforcement programs. We look forward to working with him and introducing him to our clients and partners."
Mr. Neglia has been the recipient of numerous accolades, including the Nassau Community College Leadership Award (2011), United States Congressional Award (2001), Nassau County Executive Award (2001), U.S. Drug Enforcement Agency-Excellent Service Award (1996), as well as NYPD Meritorious & Excellent Police Duty Awards.
Mr. Neglia holds degrees from SUNY-Empire State College and the New York City Police Academy. In his spare time he enjoys volunteering, and is an active supporter of St. Jude Children's Hospital, the Wounded Warrior Project, and Autism Speaks.
He is married to Anna Marie Neglia. They are the parents of three children and four grandchildren.
About Educational Housing Services
Educational Housing Services Inc. is a not-for-profit organization that has provided safe and convenient off-campus housing in New York City for college students and interns since 1987. The organization works with many academic institutions and corporations to provide housing for over 10,000 students and interns annually, and also leases to individual students. EHS operates eight student residences in Manhattan and Brooklyn, each of which offers fully furnished and amenity-rich accommodations that include 24-hour security, a live-in residential staff, laundry rooms, fitness facilities, and an active student life program. For details, visit http://www.studenthousing.org.