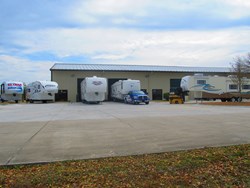 Green Cove Springs, FL (PRWEB) August 02, 2013
RVRoof.com is pleased to announce that they are looking for companies and independent contractors that want to expand into the RV market. Due to the demand for RVRoof.com's proprietary FlexArmor™ RV roof coating product in markets across America and as far as Canada, they are ready to begin training contractors.
RVRoof.com can provide companies and contractors with the training needed to get started with the RV FlexArmor™ product. RV FlexArmor™ is a pure polurea system that is a revolutionary solution to RV roofing sealing. It is the only RV exclusive pure polurea system on the market. RV FlexArmor™ has a 20 year guarantee and a 100 percent customer satisfaction rating.
Companies or contractors that wish to provide the RV Flex Armor™ system may include the system as part of their existing service center or as a stand-alone shop like RVRoof.com. RVRoof.com will provide training, where those interested will have access to the exclusive FlexArmor™ system, the correct way to prepare and apply the system and all equipment needed for the process.
RVRoof.com gets requests from all over North America for this product and the training program allows them to reach those customers. Those customers will also enjoy access to a contractor that can provide roof repairs or warranty work in the rare event that any work should be needed. There will be no need for the customer to travel to Florida to have those repairs completed.
If interested in the training program and offering the best RV roof sealing product on the market, visit the RVRoof.com website, http://www.rvroof.com. or call (904)814-2104.
<br>About the company:<br>
See the difference RV Roof.com's 20 Year Sprayed Roof can make on RV roofs. Their sprayed roofing removes all the existing caulking joints on a current roof, and creates a seamless roof that no longer will leak around fixtures or roof edges. All screw holes, frames and edges are covered providing a durable, yet flexible roof for RVs. Contact them today at 904-814-2104 to schedule an appointment or visit their website for more information.