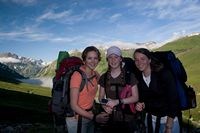 Through a combination of engagement with the great outdoors, teambuilding activities, cultural immersion, philanthropy, and fun, Wilderness Ventures' trips can prepare teens for life as an adult by teaching them valuable life skills
Jackson, WY (PRWEB) August 01, 2013
Wilderness Ventures, the longest running and most experienced adventure travel program offering teen summer camps, offers teens a unique opportunity to learn valuable life skills that can help prepare them for life beyond school. Through their innovative teen adventures, Wilderness Ventures offers students ages 6th grade through college, hands-on, real life experience in the form of adventure travel in fascinating destinations around the world. Through a combination of engagement with the great outdoors, teambuilding activities, cultural immersion, philanthropy, and fun, Wilderness Ventures' trips can prepare teens for life as an adult by teaching them valuable life skills:
How To Be A Leader
Through Wilderness Ventures worldwide Leadership Adventures, young people can gain self-confidence and learn to be young leaders as they explore the great outdoors in places like Alaska, Montana, Colorado and more. These leadership adventures invite teens to be part of a small, non-competitive group of fellow students. Through a variety of activities like kayaking, hiking, volunteering, rafting, fishing, and more, participants learn wilderness survival skills, build self-confidence, and learn decision-making and leadership skills.
How To Be Part Of A Team
With Wilderness Ventures' small group teen tours, students have an opportunity to be a part of a highly supportive team in wilderness areas around the world. Learning how to be a positive, valued, contributing member of a team is an invaluable skill in the workforce, and students have ample time to practice this while participating in a variety of wilderness adventure activities with fellow teammates.
How To Be Self-Reliant
Survival in the wilderness—and in the 'real world' after college---is very dependent on being self-reliant and being able to make responsible, practical decisions. With Wilderness Ventures teen summer camps, young people learn the value of self-reliance by being presented with opportunities to learn wilderness survival techniques, strategies, problem solving skills, and more.
How To Expand Personal Boundaries
In today's competitive job market, being able to step outside of one's comfort zone and expanding personal boundaries can be a very attractive attribute. Wilderness Ventures tours, besides being exhilarating and fun, can challenge teens to push past their own personal boundaries. Nothing can be more exciting or more challenging then summiting Mount Kilimanjaro, for example, or navigating the Mighty Colorado River in an inflatable kayak. Teens that travel with Wilderness Ventures can learn to expand their personal boundaries through adventure travel.
How To Be ConsiderateOf The World
Many of Wilderness Ventures trips focus intently on philanthropy, volunteering, wildlife conservation, community service, and more. Teens that have a global awareness and a healthy appreciation for other cultures and the natural world around them may be more prepared for life during or after college when they encounter new people and places. In addition to learning about other cultures and seeing beautiful places around the world, some tours offer students an opportunity to earn up to 60 service hours through hands-on volunteer projects.
To learn more about Wilderness Ventures, visit http://www.wildernessventures.com.
About Wilderness Ventures:
Pioneering outdoor adventures for young adults and with more than 21,000 student alumni, Wilderness Ventures has paved the way for domestic and international teen adventure travel. Wilderness Ventures four decades of unwavering values of community, wholesome environments, safety, wilderness education, conservation, and exploration have resulted in an unmatched and trusted reputation.