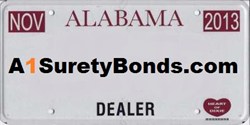 AL Motor Vehicle Dealer Licenses up for renewal 9/30/2013
Montgomery, AL (PRWEB) August 07, 2013
The Alabama Department of Revenue Motor Vehicle Division released their new portal for Dealer Regulatory Licenses. As of 7-31-2013, all renewals and requests for new licenses must be processed through the portal, which generates all required forms. Any form not printed through the Motor Vehicle Dealer Regulatory License Portal will not be accepted.
On or before September 30th, all licensed companies must visit the portal located on the agencies website and apply for license renewal. Once the application has been submitted and reviewed, a link will appear to pint out the required documents. At this point, contact A1SuretyBonds.com to secure a new bond for the 2013-2014 term.
"A1SuretyBonds.com, is an agency specializing in providing surety bonds at the lowest possible cost to the consumer and the staff is ready to assist with all surety bonding needs, including the Alabama Motor Vehicle Dealer surety bonds," per Managing Member, Michael Neschke.
Alabama Motor Vehicle License categories that expire on September 30th and require a new surety bond:
New & Used Motor Vehicle Dealers
Motor Vehicle Rebuilder
Motor Vehicle Reconditioner
Motor Vehicle Wholesaler
Motor Vehicle Dismantlers / Parts Recycler
Low rates are available at A1SuretyBonds.com and bad credit is not a problem! Licensees in need of a low cost Alabama Motor Vehicle Surety Bond can apply online at A1SuretyBonds.com and receive an approval the very same day.
ABOUT A1SURETYBONDS.COM
A1SuretyBonds.com is a leading provider of surety bonds, utilizing a web-based platform that provides ease of use and timely response in order to meet the needs of the consumer. Most bonds are issued within 24 hours or less and are only written with AM BEST A-rated and Federal Treasury Circular (T-List) Listed Surety companies. A1SuretyBonds.com is one of the few surety bond only agencies with a staff dedicated exclusively to surety bonds.
Applicants can apply online or contact an underwriter directly for a free, no obligation rate quote. For additional information on obtaining a surety bond, contact one of the underwriters at A1SuretyBonds.com via phone at 800-737-4880, email at info(at)a1suretybonds(dot)com or visit http://a1suretybonds.com/.